Japan elections: Shares rise and yen weakens on Abe win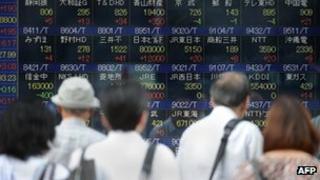 Japanese shares rose and the yen dipped after the Liberal Democratic Party, led by Shinzo Abe, won Japan's general elections.
The Nikkei 225 index rose 1% and the Japanese currency fell to a 20-month low of 84.48 yen against the US dollar.
Mr Abe has said he will implement measures to help revive the world's third-largest economy, which has been battling years of sluggish growth.
He has also promised to take steps to weaken the yen and fight deflation.
"The Liberal Democratic Party's (LDP) big victory is in line with market expectations and it will help to keep the yen weak and share prices high, at least for now," said Kyohei Morita, chief economist at Barclays Securities Japan.
Unlimited easing?
Japan's economy has been hurt by a variety of factors over the past few years, not least the strength of its currency, the yen.
A strong yen makes Japanese goods more expensive to foreign buyers and also hurts profits at the country's exporters, which rely heavily on foreign sales for growth.
The Japanese currency has been volatile in recent times and rose almost 6% against the US dollar between April 2011 and November 2012, despite efforts by the policymakers to try to weaken it.
The strength of the currency has led to concerns that some Japanese manufacturers may shift a part of their operations abroad in an attempt to maintain their competitiveness, a move that would further hurt the country's economy.
Japan has also been fighting deflation or falling prices for many years, which has affected domestic demand as consumers tend to put off their purchases in hopes of getting a better deal later on.
Before the elections, Mr Abe had said that he would implement measures directed at weakening the yen and fighting deflation.
He said that he would set an inflation target as high as 3% and even suggested that Japan's central bank, the Bank of Japan (BOJ), should print "unlimited yen" to help counter falling prices.
Analysts said that given the indications of a convincing win, Mr Abe should be able to introduce his policies, which they said might weaken the yen further.
Neil Gilbert a market strategist at GFT Forex said that the term of current governor of the Bank of Japan (BOJ) was scheduled to end in April neat year and Mr Abe "could get a BOJ governor who thinks along the same lines".
"Therefore, I see the yen continuing to weaken based on Abe's policy, and the future policy of his hand-picked governor," Mr Gilbert added.
Long term issues
During the election campaign, Mr Abe had also suggested that he would look at changing the law that governs the central bank, in an attempt to have more control over it to ensure that the BOJ helps the government's efforts to boost growth.
However, there are fears that such a move may hurt the central bank's independence in the long run.
At the same time, some analysts said that the measures being suggested by Mr Abe were short-term solutions and that policymakers needed to address various key issues to ensure sustained economic growth.
"The fact that Abe points to changes in the BOJ law or forex levels, or aggressive easing as solutions to Japan's problems is, if anything, worrying," said Yuuki Sakurai, chief executive of Fukoku Capital Management.
"They should be treated as tools to buy time to implement structural reforms, but we're not hearing anything about deep reforms that the LDP wants to carry out."
Analysts say the new government will have to try to reduce Japan's debt, the highest among industrialised nations, while keeping its spending at a level that can support growth.
At the same time, Mr Abe will have to tackle the nuclear energy policy, which has become a key political issue after last year's earthquake and tsunami caused a radiation leaks at the Fukushima Daiichi nuclear plant.
Japan, which relied on nuclear power for almost one-third of its energy supplies before the incident, shut all its 50 nuclear reactors after the leaks.
The move has resulted in higher energy costs, and many big businesses want Japan to return to using nuclear power.
The shutdown of the nuclear reactors has also seen a rise in Japan's imports of energy sources such as oil and natural gas, resulting in its trade deficit widening.
While Japan restarted two reactors earlier this year, support for nuclear energy has dwindled and there have been various protests against it.
"He [Mr Abe] will try to renegotiate plans to restart some more nuclear reactors, but given the antinuclear sentiment with the public that will be extremely tough," Martin Schulz of Fujitsu Research Institute.