UK construction output falls at slower rate in October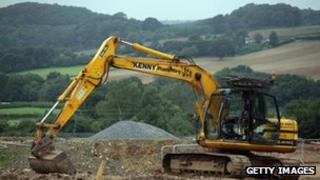 Output in the UK construction industry fell in October, down 5.1% from the same month last year, according to the Office for National Statistics (ONS).
Compared with the previous month, construction output rose 8.3%.
Construction is a component of gross domestic product (GDP), which measures the value of everything produced in the economy.
This figure is the first contributor to the eagerly-awaited fourth quarter GDP, which will be released next month.
The year-on-year construction output figure has fallen for 14 of the past 15 months, although October's fall was the smallest decline since February.
Output had dropped 13.2% in September, compared with September 2011.
Figures for each of the 12 previous months were revised by the ONS, although it said the revisions had had a "negligible" effect on GDP figures.
The month-on-month growth mirrors the result of the Markit/CIPS Construction Purchasing Managers' Index for October, which was released last month and suggested fractional growth in the sector.
At the time, Markit economist Tim Moore said: "The bigger picture remains bleak."
The Office for Budget Responsibility has predicted that the UK economy will contract slightly in the whole of 2012, which would mean a negative reading for GDP for the last three months of the year.
The construction sector reading has a relatively small weighting in the GDP figures.
It is outweighed by the service sector, the October figures for which are due to be released on Friday 21 December.