Japan Tankan survey shows business sentiment worsening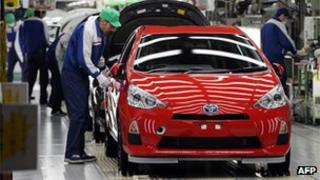 Sentiment among Japanese businesses worsened in the three months to December, the Bank of Japan's Tankan survey has indicated, underlining the weakness in the country's economy.
The survey's large manufacturers' index deteriorated to minus 12, from minus three in the previous quarter.
Japanese manufacturers have been hurt by slowing export demand, a strong yen and subdued domestic consumption.
The index plays a role in driving the central bank's monetary policy.
"We can see sentiment is worsening across the board, whether in manufacturing or services," said Hiroshi Miyazaki, chief economist at Shinkin Asset Management in Tokyo.
"There are not any signs that sentiment will recover quickly," he added.
Stimulus boost?
The index, which measures sentiment among large manufacturers, has remained negative for five successive quarters.
The latest number comes after revised growth figures earlier this week suggested the world's third-largest economy was in recession.
Japan said its economy shrank by 0.9% between July and September.
At the same time, the April to June quarter was revised from 0.1% growth to show a contraction of 0.03%, making it two successive quarters of contraction, or a technical recession.
A shrinking economy, slowing demand for exports and sluggish domestic consumption have all contributed to calls for policymakers to implement new measures to help revive growth.
Japan has unveiled some initiatives, including a stimulus boost worth 880bn yen ($10.7bn; £6.7bn), announced last month, to create employment and support small businesses.
However, there have been calls for the central bank to ease its policies further. Analysts said given the sharp decline in sentiment, the bank may announce some measures soon.
"If the Bank of Japan was leaning toward easing policy, this Tankan survey will give them a nudge in that direction," said Mr Miyazaki.