Nottingham and Shepshed building societies to merge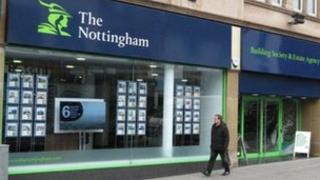 The Nottingham and Shepshed building societies have announced plans to merge in July, but there will be no windfall for members.
The Shepshed will add three branches to the 31 held by the Nottingham and will take the larger society's name.
These three branches would stay open for at least three years and there would be no compulsory job losses owing to the merger, the societies said.
However, no bonuses would be paid to those who save with them.
Some mergers in earlier years resulted in a windfall for members.
The Shepshed Building Society was established in 1879 and has branches in Shepshed, Loughborough and Ruddington. At the end of 2011, it had assets of £93m and 7,000 customers.
It said that the "longer than expected" downturn in the economy, increased competition, and more regulation made it difficult to grow, and so it sought a merger. The directors of the building society plan to resign when the merger takes effect.
All mortgage borrowers and savers will remain on the same rates, under the merger plans.
The Nottingham was established 30 years earlier and is now the UK's ninth largest building society, with 200,000 members and assets of £2.4bn.
The merger requires the approval of Shepshed members at its annual meeting in April and of the City watchdog, the Financial Services Authority (FSA).
Savers who have money in both societies will only be covered for the first £85,000 of their total savings if the merger goes ahead, as the new Nottingham will only have one licence under the Financial Services Compensation Scheme.
A host of building societies merged following the banking crisis, including mergers of the Yorkshire and Barnsley building societies. The Derbyshire, Cheshire and Dunfermline building societies all became part of the Nationwide.