HMV warns over its future as sales continue to fall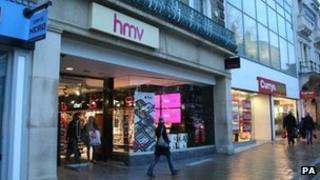 HMV has warned that it faces an uncertain future in the face of continuing falling sales, and says it is in talks with its banks.
The troubled music, films and games retailer said it faced a "probable" breach of its current banking agreements next month, and was facing "material uncertainties".
Sales for the six months to 27 October fell to £288.6m, down 13.5%.
The firm's shares fell 1.6p to 2.5p at the close of trading, a 40% drop.
At their peak in February 2005, the shares were priced at 272p.
'Market weakness'
HMV's pre-tax loss for the half-year was £37.3m, compared with a £48.1m loss last year.
Chief executive Trevor Moore said the company was continuing to "maintain regular and constructive discussions with the group's banks".
He added: "HMV has had a difficult first half. However, the business has started to deliver a number of new initiatives which will help to maximise the seasonal sales opportunity and provide a platform for growth in 2013.
"Additionally, as we trade through this period we will continue to develop further initiatives with our suppliers and I will provide updates at the appropriate time."
However, Mr Moore said: "Given that the current trading performance is not in line with expectations, the group is unlikely to achieve previous expectations for the full year."
Mr Moore only took up the top job in September, following the departure of his predecessor Simon Fox. Mr Fox left the company at the same time as former finance director David Wolffe.
During the six-month period, HMV said its like-for-like sales were 10.2% lower than a year earlier. Sales of its CDs and DVDs were down 16% compared with a year earlier, by the same measurement, which the company blamed on "weakness in the market".
By contrast, sales of its games and technology products were 6% higher, again on a like-for-like basis.
Live venue sales
HMV has 238 branches, plus nine stores under the Fopp brand.
Earlier this year, HMV announced that it would be selling its live business, so it could focus on the retail chain. The sale of its flagship Hammersmith Apollo venue in west London was subsequently completed in August for £25.7m.
At the start of this month HMV sold off more of its live music assets, disposing of London venues Barfly and Jazz Cafe, Manchester's Ritz, and three festivals - Lovebox, Great Escape and Global Gathering.
The sale to the private equity arm of Lloyds Banking Group raised £7.3m.
HMV has now been struggling for a number of years, having been hit hard by the big growth in music and film downloads - legal and illegal - and by the rise in the sale of chart CDs and DVDs by the big supermarkets.
As a result, it has continued to cut costs, closing 60 of its shops in 2011.