Hong Kong seeks 'criminal liability' for IPO sponsors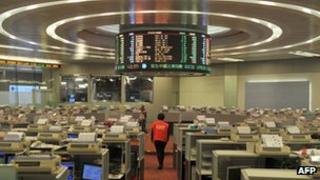 A Hong Kong watchdog has proposed that sponsors of initial share sales be held criminally liable for false information presented by firms they help to list on the stock exchange.
The Securities and Futures Commission said this would improve due diligence by sponsors, which prepare listing documents, and cut investor risk.
The move comes as accounting scandals at some firms have hurt investors.
The new rules still need to be approved by the Hong Kong legislature.
Ashley Alder, chief executive of the Securities and Futures Commission (SFC), said the new rules "will incentivise sponsors to raise standards, pick the right deals and manage them well, which should in turn reduce risks for investors and all those involved in the initial public offerings".
The regulator said the criminal liability would depend on whether a sponsor "knowingly or recklessly" submitted a document containing false or misleading facts, or left out information that may influence the decision of investors.
The SFC also proposed new initiatives to help sponsors carry out due diligence of the firms.
Companies looking to sell shares in Hong Kong would have to appoint a sponsor at least two months before they file an application to list on the Hong Kong Stock Exchange.
They would also have to commit that they, along with all their professional advisors, would co-operate with the sponsors.
At the same time, any sponsor who quits a deal would have to explain its decision to back out to the regulators.
If approved, the new rules will come into effect from 1 October next year.