Savings accounts shrink by 15%, says Moneyfacts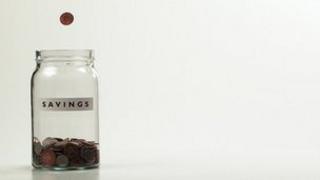 Banks and building societies have been cutting the number of savings accounts on offer, because of the Bank of England's Funding for Lending Scheme.
In this, the Bank has offered £60bn of ultra-cheap funds to lenders, but this has dampened the need for lenders to attract funds from ordinary savers.
Moneyfacts says the number of savings accounts including Isas is 2,038 - 15% down from the start of the year.
The number of accounts paying above Bank rate has dropped by 19% to 1,255.
Sylvia Waycot, of Moneyfacts, said people faced another four years of very low interest rates on savings accounts.
"Moneyfacts research shows the devastating effect that the Funding for Lending Scheme is having on savings and there seems to be no sign of any let-up in the misery that is sure to be inflicted on the nation's savers," she said.
"Providers are no longer just cutting savings rates as they were a month ago, they are now pulling entire products as they find that constantly reducing rates is not enough to remove them from 'best buy' tables.
"Of those products left, many offer reduced rates that barely match the Bank of England base rate," she added.
Moneyfacts said even those accounts paying an interest rate above the Bank's current, historically low, base rate of 0.5% were still likely to offer a return that was lower than inflation.
"Funding for Lending has an 18-month window where providers can borrow government money at vastly discounted rates and four years thereafter to lend the money out," said Sylvia Waycott.
Last month, Moneyfacts reported that since the start of FLS on 1 August, the average interest rates available on all types of short-term savings accounts had dropped.
Recent statistics from the Bank of England showed that, on average, instant access savings account were paying just 0.48% interest a year, while cash Isas were offering an average annual interest rate of just 1.27%.