India factory output boosted by festive season demand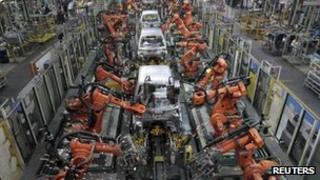 India's industrial output rose more than expected in October, boosted by increased demand during the festive season in the country.
Factory output rose 8.2% from a year earlier. Most analysts had forecast a rise of 4.5%.
Manufacturing activity, which accounts for almost two-thirds of overall output, rose 9.6% from a year earlier.
Analysts said the data was also helped by a low base and did not indicate a recovery in India's economy.
Industrial production had dipped 5.1% during the same month last year.
"It's a positive surprise, but bear in mind the jump is distorted by last year's low base, and this is going to reverse in November," said Rajeev Malik, a senior economist with CLSA.
Mr Malik explained that the festival of Diwali, which is traditionally associated with a surge in consumer demand in India, was celebrated in October last year and in November this year.
Factories mostly manufacture and ship their goods ahead of the festival, and as a result, there had been a fluctuation in demand during the respective months.
"The real, credible assessment will be possible only after the November data," Mr Malik said.