Kingfisher Airlines confirms Etihad talks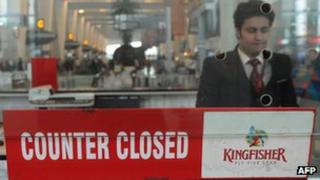 India's Kingfisher Airlines has confirmed that it is in talks with Etihad Airways and other investors to take a stake in the embattled carrier.
Local media reported that Kingfisher planned to sell a 48% stake, though the firm did not confirm the claims.
Kingfisher has $1.4bn (£870m) in debts and it is looking to raise funds after lenders refused to give fresh loans.
The airline's financial problems have prompted strikes over unpaid wages, while authorities grounded its planes.
They have asked it to outline a plan on how it intends to secure its future, before allowing it to fly again.
"We would like to clarify that the company is in discussion with various investors, including Etihad Airways, for equity investments in the company," Kingfisher said in a statement.
The company did not provide any details about the size of the investment.
However, a Mumbai-based newspaper, the Mumbai Mirror, reported that Etihad was looking to buy a 48% stake in Kingfisher for nearly 30bn rupees ($550m; $340m).
Risk v reward
Kingfisher, which was launched in 2005 and has never made a profit, has seen its fortunes plummet in recent months.
The firm's debt woes have increased and it has not been able to pay its dues to staff, airports, tax authorities and its lenders.
Meanwhile, the refusal of the banks to grant it any fresh loans has raised concerns about how it will be able to fund its future operations.
The banks have said they will only consider new loans if the promoters inject fresh capital into the firm.
Analysts said that while the firm had been holding talks with investors, any potential deal was likely to come with a similar condition.
"I do not think any foreign airline would be interested in Kingfisher unless promoters infuse money into the company, at least 40 to 50bn rupees," said Rashesh Shah, an aviation analyst with ICICI Securities.
However, some industry watchers said the lure of entering the Indian market may prompt an international airline to take a stake in Kingfisher despite the airline's ongoing troubles.
"They can get an airline which is in a mess, which can be bought at a reasonable price, and which gives them access to the captive domestic market," said Rajan Mehra, the India head of US-based private jet operator Universal Aviation.