PetroChina to buy BHP's stake in Browse LNG project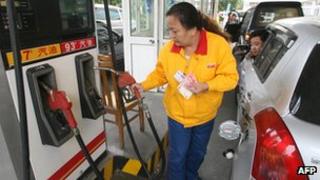 PetroChina has agreed a deal to buy ​BHP Billiton's stake in the Browse liquefied natural gas (LNG) project in Western Australia.
China's biggest oil and gas producer will pay $1.63bn (£1bn) for the stake.
Chinese firms have been keen to acquire oil and gas assets in an attempt to meet the growing energy demand in China prompted by its economic growth.
Earlier this month, China's CNOOC got the nod from Canadian authorities to takeover oil firm Nexen.
"The main driver of these acquisitions is to source oil and gas for the Chinese market," Tony Regan of consultancy firm Tri-Zen told the BBC.
"Though the domestic production in China is growing, it is never going to be able to keep pace with the growth in demand," he added.
'Bit more security'
PetroChina has agreed to buy BHP's 8.3% stake in the East Browse and 20% holding in the West Browse joint venture.
The deal is subject to regulatory approval and other members of the joint venture have a right to match PetroChina's offer.
If approved, it will be the latest in a series of investments by Chinese oil and gas firms this year.
The biggest of those has been CNOOC's takeover of Canada's Nexen for $15.1bn, which invoked concerns in Canada that it may give too much influence to China in Canada's oil and gas sector.
In November, state-owned Sinopec bought French oil firm Total's 20% stake in a Nigerian offshore oilfield for $2.5bn.
In January, Sinopec agreed a $2.2bn deal to acquire a one-third stake in US-based Devon Energy, giving it access to shale deposits in the US.
Also in January, PetroChina announced it had bought the 40% stake that it did not already own in Canada's Mackay River oil sands project for $673m.
According to data compiled by Bloomberg, Chinese firms have announced acquisitions worth $25bn in the oil and gas sector this year.
Analysts said the deals were a part of Chinese firms efforts to secure long term supplies of energy resources.
"They could buy oil and gas from international markets, but I think they are looking for a bit more security by becoming equity partners at the producers of these assets," said Mr Regan of Tri-Zen.