Bangladesh bids to boost trade with Burma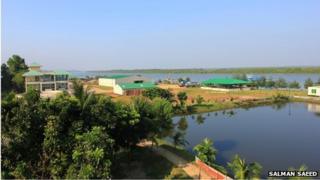 Sandwiched between a lush green mountain and the Naf river, the port of Teknaf in southern Bangladesh is picturesque and busy.
Hundreds of workers unload trawlers carrying cargo such as timber and fish pickles from Burma, just across the river.
Some also carry goods made in Bangladesh, such as cement and aluminium utensils, to the other side.
Teknaf can handle about 1,300 tonnes of cargo a day to and from Burmese ports such as Maungdaw and Sittwe.
And traders say this land-and-river port has the potential to transform Bangladesh-Burma trade.
'Reliable source'
Most of Burma's current trade is with its other neighbours - China, Thailand, India and Malaysia.
But Burma shares more than 200km (125 miles) of border with Bangladesh, and as it implements economic and social reforms, long-standing sanctions imposed by the international community are being lifted.
And Bangladesh is now being recognised as a densely populated, viable and relatively accessible market for many of Burma's natural resources and food stuffs.
Pwint San, Burma's deputy commerce minister, was in Dhaka in November, leading a business delegation looking at ways of boosting annual bilateral trade to $500m (£308m) a year. It is currently about $140m.
Bangladesh is also being seen as a gateway to the rest of the South Asia, and India in particular.
At the moment, Burma mostly exports timber, fish, spices and pulses to Bangladesh, and is the bigger player in terms of trade between the two. Even so, in recent years, Bangladesh has started exporting items such as cement, light engineering products, plastic and aluminium utensils to its neighbour.
Bangladesh also hopes that as Burma's economy grows and its consumers start becoming more powerful, there will be a new market for its clothing, pharmaceutical, jute, cosmetics and ceramics sectors.
Feeding growth
In the shorter term, Bangladesh, with its population of close to 150 million, is more focused on securing resources and food.
While it can currently produce enough food grains for its people, Bangladesh still needs to protect itself against drought, flooding or other natural disasters.
And that is where Burma comes in.
The country is thought to be sitting on a huge deposit of oil and gas. At the same time, it is blessed with other natural and marine resources as the country stretches from the north of the Bay of Bengal to the vast Indian Ocean.
"Myanmar [the official name for Burma] is possibly going to be the saviour of Bangladesh. By 2025 our population will be more than 200 million. The kind of supply we need, I think Myanmar will be a more reliable source than any other country," says KB Ahmed, president of the Bangladesh-Myanmar Chamber of Commerce in Dhaka.
"The future of Bangladesh's economic growth is closely linked with Myanmar."
But for all the promise, there are challenges as well.
Mr Ahmed says the two countries are yet to sign formal agreements on investment, shipping, tourism and currency exchange. And there are currently restrictions on the amount of money Bangladeshi businesspeople can take out of the country and invest elsewhere.
"Our laws need to be changed to help Bangladeshi businessmen to go for foreign investment," he says.
"We need to act fast if we really want to enter the Myanmar market"
Cultural ties
Teknaf has been developing at something of a slower place, even though border-trade started there in 1994.
In the past, and during the time of sanctions, the lack of a proper port, customs and other facilities meant that smuggling was widespread.
However, in recent years development has helped limit this and boost far more regular trading.
"We used to face lots of problems while bringing goods from Burma. After this port came into operation, we have more security for our cargo and the shipping crew," says Muhammad Yunus, a local trader.
"But this port still relies on manpower to offload cargo. If this port is modernised then it will help the business community from both sides."
While new equipment would be a bonus, Mr Yunus says the port has one big advantage over others - the Rohingya Muslims living in the neighbouring Burmese state of Rakhine.
Sharing close cultural and linguistic ties with Bangladeshis, the hope is that their cultural ties may help oil the wheels of commerce.
Tense relations
However, bilateral ties between Bangladesh and Burma have been tense at times, partly due to the Rohingya Muslim refugee issue.
Burma closed its border trade through Teknaf for three months earlier this year when violent clashes broke out between Rohingya Muslims and majority Buddhists.
Thousands of Rohingya Muslims have fled the Rakhine state and entered Bangladesh. It says that already more than a quarter of a million Rohingya refugees are living illegally in the country.
"Recent clashes have affected us a lot. Trade activities have dropped by more than 25% in this port," says Mohammad Maksudur Rahman Adnan, general manager of United Land Port Teknaf Limited.
"Good relations between the two countries are essential for commerce to flourish."