Sir Richard Branson offers £1m bet on Virgin Atlantic survival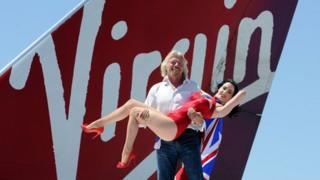 Virgin boss Sir Richard Branson has offered to bet British Airways (BA) £1m that the Virgin Atlantic brand will still be around in five years.
Sir Richard dismissed suggestions from Willie Walsh, chief executive of International Airlines Group, which owns BA, that the Virgin brand would soon disappear.
It has been reported Sir Richard may sell some of his 51% stake.
Writing on the Virgin blog, he said: "We have no plans to disappear."
Recent reports suggested that Delta Airlines had offered to buy Singapore Airlines' 49% stake in Virgin Atlantic.
As part of that deal, Delta's European partner Air-France-KLM would then buy some of Mr Branson's stake, paving the way for the Virgin brand to disappear from the airline, the reports said.
Sir Richard said that instead of suing BA for Mr Walsh's comments, he would put up £1m, to be distributed to BA staff should Virgin Atlantic cease to exist, if BA agreed to pay Virgin Atlantic staff the same amount should the brand still exist in five years.
"Virgin Atlantic was my baby 28 years ago when we set up with just one plane," he said.
"Like all children, they never really stop being your babies and Virgin Atlantic is still much cherished."
There has been no response from BA.
The offer came on the day that Virgin Atlantic announced details of a short-haul business to compete with British Airways on routes linking London's Heathrow airport and Scotland.
There has been a long history of disputes between BA and Virgin.
Sir Richard has been particularly critical of the number of take-off and landing slots at Heathrow Airport that BA holds, especially after its parent company IAG bought BMI, which gave it more slots.
He had previously campaigned against BA's proposed merger with American Airlines. They ended up not merging but have an international alliance.
In the early 1990s, Sir Richard won damages and an apology from BA at the High Court for a "dirty tricks" campaign, in which BA allegedly poached passengers, staff and gave negative stories about the Virgin founder to the press.