Italian shares hit by Mario Monti departure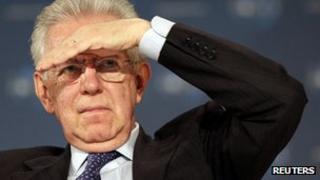 Italian stocks have fallen, reacting to the news that Prime Minister Mario Monti plans to resign and former premier Silvio Berlusconi is to run for office again.
The main Italian stock index fell 2.2%.
Other indexes throughout Europe were also lower, with banks the worst hit among shares.
French President Francois Hollande said Mr Monti's decision to step down early was "a pity" but said Mr Monti would stabilise Italy before the election.
"It's a pity for the short term, but in one month or two months, it will appear that Mr Monti is able to join a coalition or to go forward to stabilise Italy," Mr Hollande told Reuters in Oslo, after European leaders were presented with the Nobel Peace Prize.
"So we support the efforts of Mr Monti until the election, and after that the Italian people will choose the best government."
Record borrowing costs
Mr Monti became the leader of a technocrat government in 2011 after investors became worried about Italy's economic health.
Mr Berlusconi's People of Freedom party withdrew its support from the government on Thursday, and Mr Berlusconi confirmed he would lead his party into next year's elections - now on course to be held slightly earlier than expected.
Mr Monti had planned to serve until April 2013, when the current parliamentary term runs out. He had hoped this would be enough time to "rescue Italy from financial ruin".
The withdrawal of his political support means that elections are now set for February.
He replaced Mr Berlusconi after Italy's long-term borrowing costs reached levels widely perceived as unsustainable. The Italian 10-year bond yield hit a euro-era record of 7.48% in November 2011, bringing about Mr Berlusconi's departure.
Since then, Italy's yields have dropped and the focus has shifted to Spain, which has taken a bailout for its banks, and back to Greece.
However, on Monday, Italy's 10-year bond yield jumped 0.3 percentage points to 4.8%.
Among individual shares in Italy, banks were the hardest hit. Italy's biggest, Unicredit, fell 5.2%. Banca Monte dei Paschi di Siena fell 5.9% and Banca Popolare di Milano declined 5.6%.
Across banks in Europe, Germany's Commerzbank fell 1.6% and France's Credit Agricole dropped 2.6%. In Spain, banks such as Santander, Bankia and BBVA all turned lower.
"Monti is the one who managed to stabilise Italy and stop the contagion from Greece," said David Thebault, a trader at Global Equities. "His surprise resignation brings back the political risk in the equation, something we had forgotten about."
Italy's government has the biggest debt burden of any of the major eurozone countries at 123% of economic output (GDP), which makes it particularly susceptible to a loss of market confidence. This is because higher borrowing costs would make it very difficult, if not impossible, for the government to roll over its debts as they come due for payment.
'Political theatre'
Jane Foley, a currency strategist at Rabobank, said: "The resignation of Italy's technocrat PM Monti at the weekend has re-awakened fears of a return to old style political theatre in the country and brought some fresh downside pressure for the euro."
The 17-nation currency fell against the dollar and British pound.
Mr Monti, an economist who heads a unelected cabinet of technocrats, has said he will try to pass a budget and financial stability law before standing down.
A statement from the office of President Giorgio Napolitano over the weekend said that Mr Monti "does not think it possible to continue his mandate and consequently made clear his intention to present his resignation".
If the law for next year's budget can be passed "quickly", Mr Monti would immediately confirm his resignation, the statement said.
An election must come within 70 days of parliament being dissolved. Italy had been due to go to the polls by April at the latest.
"Although Mario Monti is respected abroad as the leader who brought stability and reform to Italy, at home the economy remains mired in recession," said the BBC's Europe editor Gavin Hewitt.
"The speed with which Mario Monti announced he would stand down raises the question of whether he might be persuaded to lead some parliamentary grouping. It is what Brussels and Berlin want."
Mr Monti - a respected former commissioner at the European Union - has tried to pass reforms, including implementing in July a series of spending cuts of 26bn euros (£21bn, $32bn) over three years to tackle the deficit.
But many of the proposals have been watered down or stalled as they have gone through parliament.
German foreign minister Guido Westerwelle urged Italy to push on with its reforms.
"That would bring new turmoil not only to Italy, but also to Europe," he said.
Italy's economy has been shrinking all year - its fourth recession of the past 10 years.
Employers' lobby group Confindustria predicts that the economy will shrink 2.4% this year, with unemployment hovering around 11%. The government forecasts the economy will contract by 1.2% this year.
Mr Berlusconi was convicted of tax fraud in October, though he is appealing against that ruling, and he is also on trial accused of paying for sex with an underage prostitute.
He has already served as Italy's prime minister for three separate terms and built up what is believed to be a vast personal fortune from his business empire.