Fiat to cut 1,500 jobs in Poland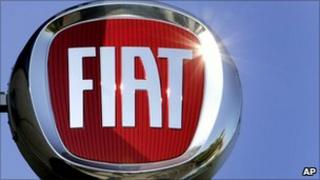 Italian car giant Fiat has said it will cut 1,500 jobs in Poland because of the weak car market in Europe.
The layoffs will be made at the carmaker's plant in the southern city of Tychy, which makes the Fiat 500.
Production at the plant has fallen during the economic downturn as output is adjusted to meet falling demand.
Demand for new cars in the European Union fell by almost 10% in October compared with a year earlier, with all the major markets contracting.
"Current market conditions and the negative outlook represent a major challenge for Fiat Auto Poland," the carmaker said.
"The market segment for cars produced at Tychy - the A segment - has been the worst affected."
Total production at the plant, which also makes the Fiat Panda, as well as the Lancia Ypsilon and Ford Ka, will be less than 350,000 this year, compared with 600,000 in 2009.
Production is expected to fall below 300,000 next year.
"The company explained to unions that the significant reduction in production volumes necessitated scaling back activity at the plant from three to two shifts," Fiat said.
"Those organisational changes will result in some 1,500 redundancies."