Brokers see mortgage choice rise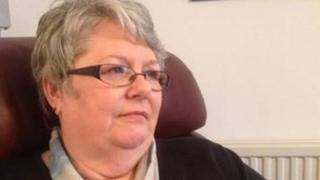 At her dining room table in her home near Sunningdale in Berkshire, Margaret McNaughton is looking over sheets of figures with her mortgage adviser Jane King.
Her three-year mortgage deal has come to an end and she is looking for the best new rates available.
Fortunately for her, the Bank of England's Funding for Lending scheme, which is designed to get banks loaning money to households and small businesses, seems to be helping her.
Over the past few weeks, cheaper mortgage deals have become available and experts suggest more are on their way.
"We are very fortunate that we have a large amount of equity in our house," Mrs McNaughton says. "It means when we talk to the mortgage company we don't have to borrow a vast amount of money."
'Money to spend'
Many of the new, lower interest rate mortgages on the market are for people with high amounts of equity in their homes, or for first-time buyers who can offer a large deposit.
At the end of November, HSBC released its lowest ever fixed-rate mortgage at 1.99%. It does have some strings attached, though, such as an upfront fee of nearly £2,000 unless applicants have an HSBC account.
It follows similar offers made to the market by Tesco and Santander.
"A lot of the banks have now shored up their balance sheets," says Jane King, of Ash-Ridge Private Finance.
"They've got money to spend on lending to borrowers who want to buy property."
'Real change'
Cheap rate deals are not only available for those who have built up a large amount of equity. Mortgage brokers suggest that the Funding for Lending scheme seems to be prompting more competition among the banks.
"There are deals out there for people with small deposits," Ms King says. "We have had rates come out this week for a 10% deposit for first-time buyers and the rates are less than 5% with free valuation and no product fees."
She says there is also assistance from government schemes such as FirstBuy - a shared equity plan for those trying to get on the property ladder for the first time.
Other mortgage brokers say they have seen some movement too.
"There's been real change," says David Hollingworth, of London and Country. "It is a complete turnaround from earlier in the year where competition had really died off.
"We are seeing a real return for the remortgage market. That's largely because lenders are looking for new business and are pricing to attract that new business and so rates have really fallen."
Yet, there is no suggestion that the mortgage market is going to return to the pre-financial crisis boom, and experts suggest people should plan carefully and seek advice as much as possible.