IMF data deadline looms for Argentina's fragile economy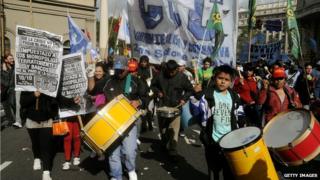 Next week (17 December) marks the deadline for Argentina to report to the head of the International Monetary Fund on how it intends to improve its official data.
In September, Christine Lagarde threatened the country with a "red card", meaning potential expulsion from the Fund and the G20, if it does not do more to produce reliable statistics on its inflation and GDP. There has been no word so far from President Cristina Fernandez de Kirchner's government about its likely response.
Debate about Argentina's official statistics dates back to 2007, when the government dismissed the director of the statistics agency that deals with inflation.
Graciela Bevacqua was accused of embezzlement and taking illegal payments from foreign investors, although neither claim has ever been upheld in court.
"They went through my personal computer in the office, my files, looking for something to use against me. They were just trying to pressurise me not to speak to the media and not to publish any figures," she said.
Since her dismissal, the agency has consistently published an annual inflation rate of about 9%. Independent analysts, including Ms Bevacqua, believe the real rate to be close to three times that figure.
Critics say the government has been deliberately manipulating statistics in order to minimise the pay demands of Argentina's powerful unions.
If that is the case, it does not seem to have worked. Pay rises have frequently topped 20% in recent years, while the rapidly weakening peso has encouraged those with money to send ever larger amounts abroad or to convert them into dollars - a process known as "capital flight".
The government rarely speaks to foreign journalists about its economic strategy, but Buenos Aires MP Gabriela Cerruti told me that international concern over official statistics was exaggerated.
"Some people say it matters, I disagree. What really matters is whether people have enough in their pocket and a roof over their heads. We don't worry about what the IMF says. These world institutions are always telling us what to do with our economy. We are doing very well. Maybe it's time they came to learn from us."
Argentina has boasted a growth rate of close to 9% a year over most of the last decade, since it emerged from a financial crisis in 2001-02.
'Dramatic' inflation
But if the inflation rate is much higher, then that also raises questions about the true rate of growth.
Critics say the problem with falsified statistics is that they seem to have prompted ever more drastic measures by the government to cover over the inflation problem.
In response to capital flight, the government has imposed tough currency controls. It has also taken radical steps to cut the influx of cheap imports.
New import restrictions mean that companies are allowed to bring in only the same volume of goods as they export.
In many cases, this seems to have had a devastating impact on industrial production.
Rodolfo Montes de Oca runs a multi-million dollar toy manufacturing business, providing jobs - and prized foreign currency - outside Buenos Aires. But when a crucial printing machine broke down recently, he told me he faced a mountain of red tape and delays just to buy in the necessary spare part.
"This part was only produced in Italy. It cost just $100 (£62) to buy. But my factory production had to stop for 10 days before I got the necessary permission to bring it in."
Some analysts believe Argentina could now be in technical recession. And there are predictions that inflation could rise to more than 30% within a few months - although without a reliable national statistics agency, this is hard to verify.
Former finance minister Orlando Ferreres says the biggest concern is political. The left-wing populism embraced by President Fernandez seems, he says, to exclude considered debate and a necessary change of strategy.
"It's impossible to continue like this. They are eating into all the reserves. At the current rate of spending, she has, at most, two to three years left before the country is bankrupt. But I don't know if she is prepared to make a change. I think she's not."
Listen to the full report on Thursday, 13 December on Assignment on the BBC World Service