New car sales 'set to be highest since 2008'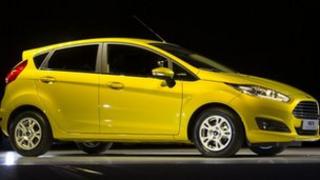 UK new car registrations rose 11.3% in November from a year ago, putting them on course for their highest full-year total since 2008, new data suggests.
Registrations in the month of 149,191 brought the year-to-date total to 1.92 million, up 5.4% from the year before.
It made the UK the second-biggest car market in Europe, behind Germany but ahead of France.
The Society of Motor Manufacturers and Traders (SMMT) said it expected a full-year total of just over two million.
That compares with the 2008 total of 2.13 million, and pre-recession annual totals in the last decade that averaged more than 2.4 million.
"The upward trend has been driven by private retail customers," said Paul Everitt, chief executive of the UK car industry body that produces the data.
Registrations by private buyers jumped by more than a fifth in November from the month before, and over the course of the year they have helped to make up for a decline in demand for fleet vehicles.
"The outlook for 2013 remains challenging," he added.
Small cars such as the Mini have grown at an above-average rate during the year, as has demand for alternatively fuelled vehicles.
The Ford Fiesta remains the most popular car so far this year, with a 5.4% share, although the Ford Focus came top of the sales rankings in November.