Mulberry confirms squeeze on profits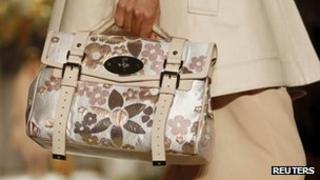 Mulberry has confirmed that the cost of improving the quality of its luxury goods has squeezed its profits.
The firm, famous for its leather bags, also revealed that wholesale sales had fallen 4% in the half year to September while retail sales growth slowed.
Profits for the six-month period came in at £10m, down 36% from a year ago.
Mulberry warned in October that profits would fall short of expectations due to weak international demand, including a drop in wholesale orders from Asia.
'Challenging environment'
The British company, some of whose handbags cost £4,500 each, repeated that its wholesale business was facing "a more challenging external environment in Asia, resulting in cautious ordering by franchise partners".
However, chief executive Bruno Guillon said that he expected wholesale sales to rebound in the New Year.
Retail sales growth meanwhile was 7% on a like-for-like basis - excluding the effect of changes in floorspace - compared with the 26% growth rate seen in 2011.
However, the firm said this growth rate had picked up in October and November, reaching 11%.
On top of the slowdown in sales, Mulberry also revealed a squeeze in its profit margins, due to the cost of employing higher quality materials and manufacturing techniques for its goods.
"The UK retail business and key wholesale accounts have continued to perform well in the context of a challenging economic environment," said Mr Guillon.
"During the period, we have rationalised certain wholesale accounts and refocused the outlet business, which has impacted financial performance in the short term. However we firmly believe that this is in the long-term interests of transforming Mulberry into a global luxury brand."
The company said that it expected its full-year profits to be in line with market expectations.
Shares in Mulberry have been on the slide since May, and fell by a quarter following its profits warning in October.
Its share price has since recovered, and rose a further 0.4% in Thursday morning trading following the half-year results release, but still remains more than 50% down from its peak in May.