GMR suffers setback in Maldives airport dispute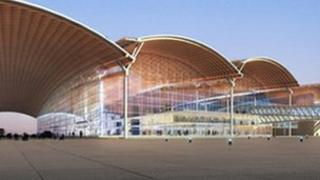 Singapore's Supreme Court has ruled in favour of the Maldives government's move to cancel the contract of India's GMR to manage Male airport.
The ruling overturns an earlier order by a Singapore court that suspended the move, and clears the way for Maldives government to take over the airport.
GMR and Malaysia Airports Holdings Berhad won a joint contract in 2010 to operate the airport for 25 years.
Maldives had said the deal faced "legal, technical and economic issues".
"The Maldives government has the power to do what it wants, including expropriating the airport," Sundaresh Menon, the chief justice of Singapore, was quoted as saying by the Reuters news agency.
When contacted by the BBC, a GMR spokesman said: "We have no comments on the order at this moment, as we are in process of evaluating the same".
It had previously said that the decision to cancel the $500m (£312m) contract was "irrational" and "unlawful".
Meanwhile, India has also voiced its concerns, saying the move would send a "very negative signal" to foreign investors.
GMR has a 77% stake in the operation while the Malaysia Airports Holdings Berhad owns the remaining 23%.