Halifax says house prices to be little changed in 2013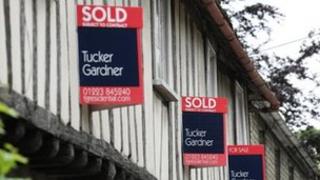 House prices will see little change next year, predicts the Halifax.
Its forecast came as it reported a slight bounce-back in prices in November.
Its latest monthly survey suggests that prices rose by 1% last month to £160,879, though that was still 1.3% down on a year ago.
During the past six months, the trend has been for average prices to drop slightly across the UK, on the Halifax's measurements.
The lender predicted that in 2013, prices would end the year somewhere in a range between 2% up on 2012, and 2% down.
"Conditions in the housing market have been largely unchanged over the past 12 months with little overall movement in either house prices or sales for the second consecutive year," said Martin Ellis, the Halifax's housing economist.
"This stability is remarkable given the poor domestic economic climate and the considerable uncertainty regarding the prospects for both the UK and world economies."
The interactive content on this page requires JavaScript