TV makers in record 1.47bn-euro fine for price-fixing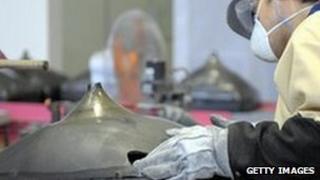 The European Commission has imposed a record 1.47bn-euro ($1.92bn; £1.19bn) fine on a number of TV makers for price-fixing.
EU regulators fined the firms for fixing prices of TV and computer monitor cathode-ray tubes for a decade.
Dutch-based Philips faces the biggest penalty of 313.4m euros, followed by LG Electronics with 295.6m.
Other members of the cartels included Panasonic, Samsung, Toshiba, and Technicolor.
Taiwanese firm Chunghwa Picture Tubes escaped a potential 17m-euro fine for blowing the whistle on the cartel.
"These cartels for cathode ray tubes are 'textbook cartels': they feature all the worst kinds of anticompetitive behaviour that are strictly forbidden to companies doing business in Europe," said EU Competition Commissioner Joaquin Almunia.
The two cartels operated worldwide between 1996 and 2006, the commission said in a statement, and were "among the most organised cartels" it has ever investigated.
"For almost 10 years, the cartelists carried out the most harmful anti-competitive practices, including price fixing, market sharing, customer allocation, capacity and output coordination and exchanges of commercial sensitive information", the commission said.
Cathode ray tubes (CRTs) were an important component of TV and computer screens, accounting for 50% to 70% of their price.
The firms involved held what they called "green meetings" across Asia and Europe to discuss price-fixing tactics, so-called because they were often followed by a round of golf. Lower-level meetings were called "glass meetings".
Recipients of documents relating to such meetings were asked to destroy them after reading.
"The cartelists were trying to address the decline of the CRT market in a collusive way, to the detriment of consumers", the commission said.
Producers avoided price competition by controlling their production capacity.