Gas power stations given go-ahead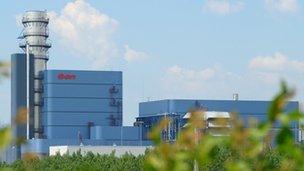 Chancellor George Osborne has approved the building of over 30 new gas-fired power stations to replace the UK's ageing coal, nuclear and gas stations.
The new capacity could produce up to 26 gigawatts (GW) of electricity by 2030, a net increase of 5GW.
The plans will dismay environmentalists who want more emphasis placed on lower-carbon, renewable energy sources.
Mr Osborne also announced a consultation on potential tax incentives for shale gas exploration.
In a statement announcing the government's new gas generation strategy, Energy Minister Ed Davey said: "Gas will provide a cleaner source of energy than coal, and will ensure we can keep the lights on as increasing amounts of wind and nuclear come online through the 2020s."
Mr Davey said the policy was "consistent with significantly reducing emissions from the power sector in order to meet Carbon Budgets".
Gas accounted for about 40% of UK electricity production in 2011; the new capacity could see that figure rise to 50%.
Welcoming the announcement, Angela Knight, chief executive of lobby group EnergyUK, said: "Government has now made it clear that it sees gas as having an important role today and in the future.
"This greater certainty on energy policy should also be a real confidence booster for establishing supply chains for all types of electricity generation."
But some experts believe a new "dash for gas" is misguided.
And David Kennedy, chief executive of the Committee on Climate Change, said: "Early decarbonisation of the power sector should be plan A - and the dash for gas Plan Z."
He argues for "investment in a portfolio of low-carbon technologies, rather than a dash for gas which would raise long term costs and risks."
The government says it hopes to attract investment in new gas infrastructure by:
introducing a Capacity Market, allowing for capacity auctions from 2014 to ensure energy supply at times of peak demand
simplifying the planning regime
stepping in if necessary to improve liquidity and market competition
encouraging new gas storage capacity
establishing an Office for Unconventional Gas and Oil
potentially introducing new tax incentives for shale gas exploration
supporting the development and commercialisation of carbon capture and storage technology
But there was still no announcement on whether drilling for shale gas would be allowed to continue, despite the announcements on potential tax incentives for the fledgling industry.
Shale gas is controversial because the extraction process - known as 'fracking' - involves pumping high-pressure water and chemically-treated sand into the shale rock, which can lead to polluted water supplies and earth tremors.
Test drilling by US firm Cuadrilla near Blackpool was stopped after two minor tremors. Mr Davey said a decision would be made "shortly".
In the US, shale gas discoveries have brought the country close to energy independence, but the side effects have caused complaints from affected locals.
However, the industry has said this is more to do with bad practice rather than the principle of fracking itself.
Related Internet Links
The BBC is not responsible for the content of external sites.