Ireland budget: Local property tax introduced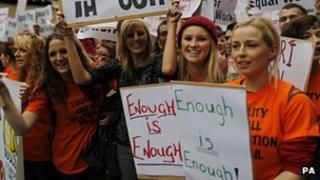 The Irish government has announced a fresh package of spending cuts and tax rises worth billions of euros in its budget for 2013.
These include a new property tax of 0.18% of the value of a home up to 1m euros (£800,000, $1.3m).
These are the latest in a long line of austerity measures imposed on Ireland by international lenders that bailed out the country in 2010.
The government said it would meet its deficit reduction target for this year.
It projected a budget deficit of 8.2%, compared with a target of 8.6%. The deficit would fall steadily to 2.9% by 2015, it added.
These forecasts were based on economic growth of 1.5% next year, rising to 2.9% in 2015.
"There are manifest signs that the country is emerging from the worst of the crisis and that the efforts of the Irish people, despite the hardship, are leading to success," said Irish Finance Minister Michael Noonan.
Tax exemptions
He added that 2012 had seen the "first signs of stability in both the residential and commercial property markets in six years".
To help "maintain momentum" in the domestic property market, any new or previously unoccupied homes bought between the beginning of next year and the end of 2016 will be exempt from the new property tax. Equally, any homes bought by first-time buyers in 2013 will be exempt.
For all other homes, the Local Property Tax will be introduced in July next year, and will include a higher rate of 0.25% that kicks in on the balance of any property over and above 1m euros.
However, local authorities will be able to vary the rates by 15% above or below the national rates "to better match their funding needs".
The government also increased tax on alcohol and cigarettes, and announced that maternity benefit would become a taxable income in July 2013.
Income tax rates, as well as duty on petrol and diesel, were left unchanged.
"The individual measures are modest," said Mr Noonan. "However, I believe that the combination of the measures will have a significant beneficial impact."
Analysts highlighted the fact Ireland was taking tough decisions to meet its deficit reduction targets.
"It's a fairly balanced budget from the market's point of view," said Owen Callan at Danske Markets.
"Ireland has gotten this tag that it is willing to do whatever it takes to remain on track, even if some of the measures are unpopular. They are taking a few measures that some other countries have been unwilling to look at."