KP Nuts snacks firm sold to German company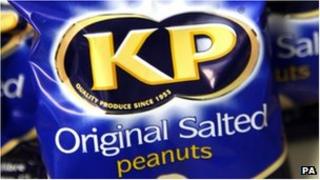 The company that makes KP Nuts, Hula Hoops and McCoy's crisps has been sold to a German firm for a reported £500m.
The business, which is the UK's second largest snack maker, was sold by United Biscuits, which also owns the McVitie's and Jacob's brands.
It employs about 1,500 people at sites in Middlesex, Leicestershire, South Yorkshire and County Durham.
KP Snacks will come under the ownership of Intersnack, which makes Pom-Bear crisps and Penn State pretzels.
The deal, which also includes the Skips and Brannigans snack brands, is expected to be finalised next year.
United Biscuits, which was bought by private equity firms Blackstone and PAI Partners in 2006, will keep those brands that are made in its biscuit factories, including Mini Cheddars and Twiglets.
The executive chairman of Intersnack, Maarten Leerdam, said the company appreciated the "significance of acquiring a part of British heritage".
A statement from United Biscuits said the UK's snack market was the largest and most innovative in Europe.