Ireland budget: Tax hikes and spending cuts expected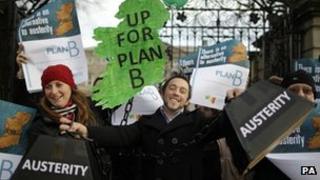 The Irish government will present its sixth hard-hitting budget since the collapse of the country's Celtic Tiger economy on Wednesday.
More tax rises and spending cuts will be announced as the government hopes to save another 3.5bn euro (£2.8bn).
After four years of austerity, all of the economic "low-hanging fruit" has already gone.
Consequently, a new property tax is expected, along with cuts to the health and social welfare budgets.
Since Ireland required an international bailout in 2010, the government has been forced to adhere to strict spending limits set by the EU and International Monetary Fund.
It has been difficult, but Ireland has done it.
In doing so, it has earned the reputation as Europe's "poster boy of the recovery", with Taoiseach - or Prime Minister - Enda Kenny featured on the front page of a recent edition of Time magazine.
Unlike Greece, there has been no violent backlash against austerity in Ireland. There have been demonstrations in the centre of Dublin but they have been peaceful.
Fighting back
An answer to the question of why Ireland has been relatively calm during the economic storm can be found in north Dublin's housing estates around Coolock and Darndale.
It was here where the gritty 1991 movie The Commitments was set. Unemployment is high - well above the national average of 15% - and life for many people is tough.
Mother-of-two Aisling Devine-Hutchinson has lived here all of her life. She says the overwhelming feeling in Ireland after the financial meltdown was shock rather than anger.
"It just gazumped us," she says. "We're probably not quite as vocal as Greece. It's two different cultures, two different countries.
"We kind of sit back and just see what happens. But I don't think we've given up fighting yet."
Helping the fightback in north Dublin is a community development company, the Northside Partnership, which runs a "jobs club" and works with people at the sharp end of the recession.
"These people may be angry but they are doing something about it," says Trina O'Connor, who heads up the club.
"I think that's why we don't have anger on the streets. People are trying to get back to work.
"I think Irish people generally are very optimistic people. On the whole, I think they look for the positives in life."
'A little tenderness'
Such optimism might prove well founded as some say there is light at the end of Ireland's dark economic tunnel.
"I think it's on a reasonably fine line, but the markets at the moment do believe that Ireland can survive," says Joe Tynan, a tax partner at PwC in Dublin who believes the chances of a full recovery are reasonably good.
"If you look at the 10-year money, it's at 4.5% in terms of the yield. That's at a level where Ireland can borrow, so at the moment we can certainly survive without a second bailout."
Back in north Dublin, the people hope he is right and they pray that the budget will not be as bad as is feared.
In the words of one of the songs from The Commitments, they are hoping that the government will soon "try a little tenderness".
But the harsh truth is that Ireland still cannot afford it.