Eurogroup boss Jean-Claude Juncker to step down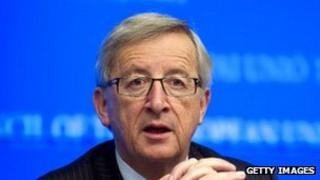 Eurogroup head Jean-Claude Juncker has announced that he is stepping down at the end of December.
The Luxembourg prime minister has held the post of Eurogroup head since 2005, and his move was widely expected.
Eurogroup is made up of finance ministers from nations in the single European currency.
It is not yet clear who will succeed him in the post, and any candidate will have to be acceptable to the euro's main powers, France and Germany.
German Finance Minister Wolfgang Schaeuble and France's Pierre Moscovici are the most likely candidates.
"I don't have to endorse anyone," Mr Juncker told reporters. "I was asking my colleagues to provide for my succession.
"And I asked them to do everything possible to appoint another minister as chair of the Eurogroup."