Commodities firm Olam shares soar on fundraising plan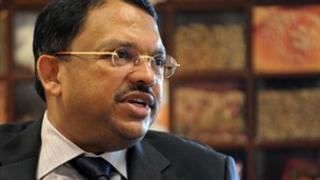 Shares of Singapore-based commodities firm Olam International have climbed more than 8% on its plan to raise as much as $1.25bn (£770m) in fresh funds.
The move is the latest attempt by the firm to fight assertions by short-seller Muddy Waters that it is on the verge of collapse.
Olam will offer $750m in bonds and up to $500m in warrants.
However, some analysts were still not optimistic and Maybank Eng downgraded Olam stock to 'sell' from 'hold'.
In November Muddy Waters issued a 133-page report alleging questionable accounting practises at Olam that were masking high debt levels.
It claimed that some of the practices being followed by Olam were similar to those of Enron, before it collapsed.
Olam fiercely refuted the claims saying it was not at risk of insolvency and had enough liquidity. It also sued Muddy Waters in the Singapore High court.
Late on Monday, Olam announced its fundraising plan saying Singapore state investor Temasek Holding, already Olam's second-largest shareholder, would buy any rights not taken up by other investors.