Bank crisis impact bad as world war, Andrew Haldane says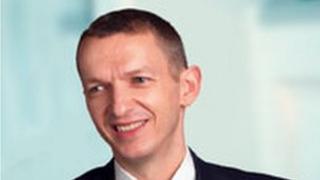 A top Bank of England official has told the BBC the banking crisis has been as bad for the economy as a world war - and that bankers' pay should fall.
Andrew Haldane, the Bank's executive director in charge of financial stability, said the damage done to income and output was equivalent to that suffered in global combat.
He added that bankers should be paid similar amounts as doctors or lawyers.
He also said that public anger at the banks was justified.
Speaking to BBC Radio 4's The World at One programme, Mr Haldane said: "In terms of the loss of incomes and outputs, this is as bad as a world war. That is the scale we are talking about."
He said the damage was likely to remain for many years: "If we are fortunate, the cost of the crisis will be paid for by our children. More likely it will still be being paid for by our grandchildren."
Morals
In the past five years, the banking sector has been buffeted by a series of crises and scandals.
Loans were made to borrowers who would never be able to repay them and then sold on around the global banking system, which started the sub-prime crisis that froze banks' willingness to lend to each other and to customers.
Mr Haldane said banks still had risky assets of the type that caused the credit crisis hidden on their books and that unless they owned up to these confidence would not return.
"We need to get our banking system firing again, to get its mojo back," he said.
Mr Haldane is in favour of bringing in a stricter regulatory regime for banks, which may include separating banks' retail and investment arms to protect High Street customers from the more risky investment operations.
Pay levels
The problems in the banking sector - which have also included mis-selling of payment protection insurance, and the Libor inter-bank lending scandal - have led to public anger over the level of bankers' pay.
Although bankers' pay has fallen, Mr Haldane said it needed to drop further still to bring it into line with other senior professions.
"Back in 1980, your average investment banker was paid the same as your average lawyer or doctor.
"By the time we got to 2006, they were being paid four times as much."
"A massive discrepancy had been built up, that is now being steadily eroded. It may take some years. Have we got further to travel south? I suspect probably yes," he said.
In previous public comments two months ago, Mr Haldane said that the Occupy movement, a global anti-capitalist network of protesters, had played a key role in financial reformation and had touched a "moral nerve".
He said policymakers had listened to the campaign group, which seeks to reform the financial sector.