Rogue trader Kweku Adoboli 'was not pressured' by bank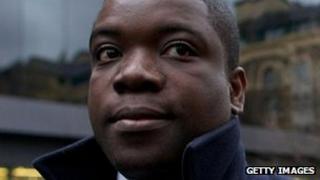 Rogue trader Kweku Adoboli was not put under too much pressure to deliver profits, his former manager at UBS has told the BBC.
Adoboli was jailed last month for the biggest fraud in British history.
His defence had argued in court that bosses turned a blind eye to traders who breached their risk limits, as long as they delivered profits.
But Mr Adoboli's former supervisor at the bank UBS said he did not agree that they were pressured from the top.
"I think you have personal levels of stress that you put upon yourself," John Hughes said in an interview with the BBC. "One of the things that people should look for in the characters that they hire to a trading floor is that they can cope with different types of situations."
Mr Hughes likened trading to a game of nerves, testing whether a trader could hold his ground against other market participants.
"It's psychological warfare," he said.
Mr Hughes was dismissed from his job at the Swiss investment bank UBS after Adoboli, 32, of Whitechapel, east London, was accused of illegally gambling away £1.4bn of the bank's money.
'Coincidental'
Adoboli's defence had argued in court that the mantra from UBS management was "revenues, revenues, revenues".
Mr Hughes has now set up a gambling website, which takes bets on football matches. It's a far cry from his original ambition of becoming a teacher, something which he says his aunt talked him out of. "She said go and earn some money first, your family's never had any," he said.
He rejected accusations made by critics who see his new betting website as a sign that what traders at investment banks do is merely a glorified form of gambling.
"It's totally coincidental that I've worked in investment banking and am now helping to run a gambling business," he said, adding that people who made those accusations "don't know what investment bankers do on a day-to-day basis".
During the trial, the defence portrayed Mr Hughes, who was in his mid-twenties when he worked at UBS, as someone who abandoned Adoboli as the jailed former trader's illegal trading scheme unravelled, letting him take the fall on his own.
Mr Hughes said the past year had been very stressful but wouldn't talk about the case in any detail. "I feel that I would get too passionate and I think I'd get quite emotional and might say something that I would later regret," he says of the Adoboli trial now.
"It's an incredibly unfortunate set of events that a man goes to work and ends up in prison," he said. "I think it's incredibly sad not just for him but for everyone that he worked with and for the firm that he worked for."
To hear the full interview that was broadcast on World Business Report on BBC World Service, download the podcast.