Gas-fired power stations to be encouraged by government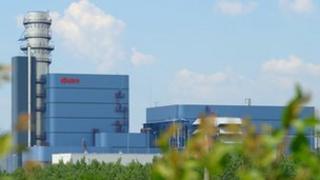 The government is to unveil its contentious gas strategy this week.
Chancellor George Osborne has ruled that gas should continue to play a role in day-to-day electricity generation beyond 2030.
He has over-ruled official climate change advisers who want gas to be used almost exclusively to back up nuclear and renewables by then.
Also in the next two weeks, DECC will rule on whether controversial drilling for shale gas will go ahead in the UK.
Environmentalists say shale gas could become a bruising political battleground.
The process involves extracting gas from rocks by pumping in sand, water and chemicals.
Shale gas has brought the USA cheap energy but it has also caused polluted water supplies in places and caused earth tremors. Problems have been blamed by the industry on bad practice rather than bad principles.
Test drilling in the UK near Blackpool was stopped after two minor tremors, and Energy Secretary Ed Davey has been examining what safeguards are needed if it is to play a part in the UK.
Central role
The timing of the two announcements has been determined by politics. The energy department DECC originally planned to fold the issue of gas into its over-arching Energy Bill published last week.
DECC planned to follow advice from the official advisory Climate Change Committee to strictly limit the role of gas for electricity.
But the chancellor has demanded that gas should have its own separate strategy to ensure that it plays a central role.
The strategy will officially be published by DECC but a senior DECC source told me: "This is the chancellor's personal obsession. We have just let him get on with it. We don't really object."
Mr Osborne has talked of wanting the UK to become a gas "hub", bringing gas into Europe.
The strategy will lay plans to guarantee security of supply of gas into the UK. The chancellor believes gas will probably be relatively cheap in future and does not want to burden the UK economy with high energy prices.
Fracking plans
Although gas is cheap and plentiful in the USA, opinions vary as to whether it will be affordable or expensive on the global market.
So, as North Sea gas dwindles, there is great pressure on the UK to produce its own supplies from shale gas, which increases the significance of Mr Davey's shale gas announcement.
DECC was embarrassed at the weekend by a Freedom of Information request from Greenpeace showing research for the government suggesting that 64% of England's rocks might hold hold gas for fracking, the process by which trapped gas is extracted from rocks.
DECC said it was "ridiculous" to suggest that two thirds of England would be fracked, adding that the British Geological Survey was still investigating how much shale gas might realistically be exploited.
But with constituents of some rural areas complaining that they do not like wind farms, the prospect of gas drilling in nearby fields may prove equally politically sensitive.
Greenpeace claim that the chancellor has been over-influenced on the issue by his father-in-law Lord Howell, who was a government energy minister before climate change was a concern.
In a sting operation Greenpeace secretly filmed Lord Howell warning that the UK was dependent on gas from Qatar so that, "if jihadis took over Qatar we would be up shit creek."
Follow Roger on Twitter @rogerharrabin