Logistics: Distribution tech spreads Christmas cheer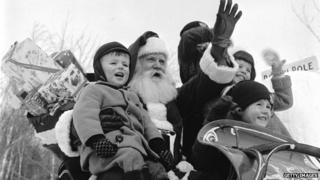 "Some toys are made from love, love for the toy and the design and the art and the thought that a child's going to play with it and enjoy it."
So says Josh Diament of toy distributors Stortz & Associates. The Canadian company specialises in supplying eco-friendly toys to shops across the country.
Father Christmas has his sleigh and an army of elves to help make sure that all the toys get to the right place for Christmas day.
But how does a small company, which started in founder Linda Stortz's basement and a decade later now has 10 employees, track stock and make sure inventory gets to where it needs to be in a timely fashion?
Weighing it up
The answer is enterprise resource planning (ERP) software. It's something all the big players use - and using industry-leading products like SAP's NetSuite has a correspondingly-big price tag.
"I thoroughly investigated the solutions that are out there," says Mr Diament. Many of the products didn't translate well to a small business distribution environment, he says. Almost all were too expensive.
Finally, after considering and discarding a procession of products, he settled on start-up BizSlate.
"BizSlate is developed to really control your inventory, sometimes we have customers that want certain size boxes and labels, that's already included.
"Some customers, they want to get eight in a box, they don't want six. BizSlate does it really well to pull inventory, recognize what's left in open stock, do your packs, tell you how many boxes you need."
The software-as-a-service (SaaS) system is web-based, with data held in the cloud, and no need to install expensive servers.
It is customisable, with optional industry-specific functionality, and lets small businesses manage everything including customers, vendors, orders, inventory, order processing and overall supply chain. It also integrates with Quickbooks (small business accounting software).
Mr Diament believes that as well as cost - he estimates it comes in at about 30% of the average quote he was given elsewhere - his ability to give feedback sets it apart.
"[Founder Marc Kalman] really knows the distribution business," he says.
"It's not going to save you, it's not going to create anything for you, it's not going to make your business.
"However if you have something going on now it is an accelerator. It's going to help you do things quicker. It's going to enable you to have a faster workflow."
Marc Kalman has worked in distribution and supply chain technology most of his working life.
"One of the things I found is that it was surprising to me that there aren't more solution providers that cater to this market," he says.
"When we started initially, before we wrote a single line of code, we made very few assumptions on our own."
He has instituted a 19 customer steering committee that works to improve the product.
"I've sat down with everyone one and one, we tour the warehouse, we look at how their internal staff operates.
"I ask them, I don't want to know what you like or dislike about your current system, just talk to me about what you need. Because it's clear to me there are companies out there but no one's done a good job of solving the problems small companies face in a small business market."
Dial it in
Half-a-world away in east Africa, companies trying to get their products onto customer shelves face different challenges, often caused by a massive lag in technology infrastructure.
When your customers don't have computers and can't access the internet, how do you automate?
Ugandan start-up Afrocyber has developed an award-wining platform called EasyOrder that lets your customers order stock using their mobile phones.
Relatively-few people own smartphones in the region, so text messages can be used instead of an app or website.
Founder Billy Kaye says manufacturers in the region face what he calls "blind supply problems".
"Basically what they do is they load up a truck with goods, and they move these trucks hopping from customer to customer, asking them how much produce do you want, how many beers do you want, and then they give them the crates," he says.
Their largest customer to date is Tanzania's biggest drinks manufacturer Azam.
Since using EasyOrder, the company has stopped sending out trucks speculatively.
Instead orders are received via text. Vans are loaded up with goods for customers who are close together, and when a van is full it sets off to make the deliveries.
Locations are pinpointed on a map using GPS technology, and the drivers all have tablets to let them find their destinations. Customers can call and find out where their delivery is and when it will arrive, and can pay using mobile money transfer.
It's been a huge success, says Mr Kaye, but not without a few hiccups.
"The first day it crashed their whole system. They couldn't handle the orders, because it overwhelmed their production line."
Finding out what their customers actually wanted to buy, rather than effectively dictating demand based on the contents of a lorry, meant the company had to overhaul production lines.
They have been able to cut the size of their transport fleet, reduce their fuel bill, and sell more juice.
Afrocyber is now working on rolling out EasyOrder throughout east Africa, and increasing the number of paying customers.
Most companies would see solving their distribution worries as a very welcome gift.
Even if you do happen to work mainly seasonally, at the North Pole.