Public sector jobs are well down, so why is the pay bill up?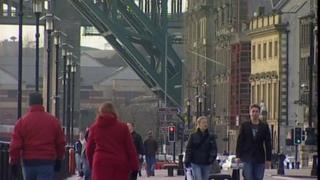 George Osborne and the public sector unions were never going to be the best of friends. And the signs are that he will not be throwing them many bones in next week's Autumn Statement.
One of his first acts as chancellor was to announce a two-year pay freeze for two-thirds of public sector workers. There is speculation in Whitehall that he will extend that freeze next week, or at least put a tight limit on next year's pay awards.
Mr Osborne also made clear that he was not worried about public sector job cuts. After years of rapid growth, he expected the number of people to shrink. Though the plan was that it would happen slowly enough for the private sector to make up the lost jobs.
So how is he doing on this crucial piece of the government's budget? That's a question I will try to answer on Friday's TV news.
When it comes to cutting jobs, it turns out that the chancellor has been more successful than anyone imagined (and so, for that matter, has the private sector when it comes to creating them). But that has not translated into a fall in the government's pay bill, for reasons which remain a bit unclear.
Local difficulties
The numbers are stunning. When Mr Osborne announced his first Budget in June 2010, the Office for Budget Responsibility reckoned it would mean the loss of around 66,000 jobs across government in the first two years.
In fact, the number of people working in the public sector has fallen by more than 370,000 just since April 2010.
Where have the jobs been lost? Well, about a quarter of the jobs have gone from central government. But that's actually less than its fair share, given that half of government workers work in this part of the public sector.
The lion's share - nearly 75% - of the lost posts have been in local government, where councils have cut further and faster than anyone expected.
My producer, Mark Broad, braved the rain to visit Newcastle earlier this week (I tried to come too, but was foiled by flooding on the track). The city council there, now Labour-controlled, has cut 1,000 staff already, and another 1,300 jobs will have to go between now and 2015. That's a roughly 20% cut in employment in the space of five years.
When jobs cuts in big Labour city councils were first announced, there was some debate about whether they were overdoing the pain, for political reasons. Others will know better than I whether that's true.
But the city's finance director said he thought that core "frontline services" had stood up remarkably well, at least in this first phase of cuts. The next lot might be harder.
Unexplained pay
We can say, looking at where the job losses across government have come, that "public administration" jobs account for around a third of the lost posts, more than you would expect on the basis of their share of the labour force.
Just over a tenth of the jobs lost have been in the police, versus less than 4% for the NHS (which accounts for a quarter of all public sector jobs).
Whether or not any of this is good news for voters, you would have thought it had been good news for the chancellor - that he would have seen an equally rapid fall in the government pay bill. That's not quite how things have worked out.
Though the number of people working for the government fell by 6.4% between April 2010 and April 2012, the government public pay bill (central and local) actually rose by 2%.
That translates into a 9% rise in earnings per head over two years - three times more than the OBR forecast in 2010.
I mentioned that 9% figure in another post, in September. It's a bit of a puzzle, because independent surveys of public sector earnings don't show average public sector pay growing nearly as fast during this period.
'Annual increments'
I've been talking to the statisticians to try to get to the bottom of the puzzle. One reason you might have expected pay to carry on rising was that lower paid workers - around 30% of the total - have received pay rises since 2012.
It's also likely that the people who have gone were paid less than average, meaning the average pay per head would have gone up.
But another, more surprising factor is that a lot of civil servants - in Whitehall departments, but also places like the NHS - have continued to receive the "annual increments" they're entitled to, for building up experience. Despite the pay freeze.
To most people in the private sector, those annual increments look like pay rises.
Job losses would have been that much greater if there had been no pay freeze at all. But the contrast between a 6.4% fall in jobs and a 2% rise in the pay bill is still pretty striking.
The promise to shrink the public workforce is one area where Mr Osborne can say he has over-delivered - though I am not sure he will boast about it in next week's Autumn Statement.
Cutting the amount the government spends on pay has turned out to be a lot harder.
Update 3 December 2012: An earlier version of this blog stated that members of the police might have received increments. This was my understanding from talking to officials in Whitehall. However, the chairman of the Police Federation has told the BBC that all such increments for members of the police force have been frozen.