Insurance premiums for young female drivers soar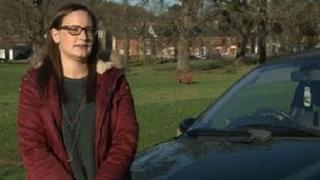 The youngest female drivers face significant increases in their insurance costs from this month, according to new figures.
Higher insurance costs had been predicted, as a result of the ban on different prices for men and women which starts on 21 December.
A European court ruling last year found that gender discrimination in insurance was against the law.
Insurance brokers are reporting rises of 40% or more in some quotes.
This is for cover for motorists starting this December, compared with quotes for policies starting in November. In some cases they can be even higher.
The European ruling means that women will also pay more for life assurance, while men will receive lower annuities - a pension income for the rest of their lives.
'Significant changes'
The cost of driving could soon be beyond the reach of 19-year-old Hazel Bond.
All the insurance quotes she has received at the new rates are higher. One quote was nearly £500 more at just over £1,525 for her 1100cc Renault Clio.
"The change in the law means I'm not sure if I'm going to be able to afford my car, especially when I go to university," said Miss Bond, from Fleet in Hampshire.
"It is not very good because I do really need my car when I go on placements, so it is going to affect me a lot."
Until now young male drivers have had higher insurance bills because they have more accidents, but pricing according to gender will be illegal.
Miss Bond, who passed her driving test 18 months ago, is one of several cases being tracked by the insurance brokers association, BIBA, to assess the impact of the European ruling.
"We're beginning to see the first changes coming through and young women are being affected particularly," said Graeme Trudgill, from BIBA.
"For the under 25s, we're seeing average increases of 15%, but in some cases 40% and even over 60%, so there are significant changes."
The research shows that some men are seeing small reductions in the cost of motor insurance.
The European ruling is having much less of an impact on both male and female drivers over the age of 25.