Investor worry following collapse of wine firm Vinance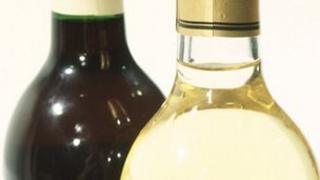 People who invested thousands of pounds in fine wine are facing an anxious wait after the collapse of a major wine investment firm.
Vinance managed more than £50m of wine for thousands of investors in the UK and abroad.
The firm Herron Fisher is handling the administration process.
It says it is hopeful that investors will ultimately be repaid about half of their debt, although a buyer has been found for the customer database.
Vinance was founded five years ago, but recently investors had complained they had had problems in getting their wine sold. The company, based in Greenwich in south east London, charged investors a hefty upfront fee, which was supposed to cover future charges.
Market changes
But when the fine wine market cooled, the firm ran into problems.
Nicky Fisher, from Herron Fisher, told Radio 4's Money Box programme: "The company were charging 25% up front to store the wine, insure the wine and allow for the selling costs. Whilst that was in a rising market, that worked."
But, Ms Fisher said, as the market had changed, so had the fortunes of Vinance.
"The clients were selling that stock but the company was buying that stock and then not being able to sell it on and then not having the funds to buy what the clients had ordered," she said.
"That caused cash-flow problems and this caused the collapse of the company."
Vinance PLC was put into administration in the High Court on Friday 16 November. The administrator estimates about 1,000 UK customers will be affected.
Simon Ford, one of the directors of Vinance, told Money Box that the firm's trading model had been unsuccessful in a falling market. But he said the firm had considerable assets worth several million pounds, which could be distributed to creditors.
However there is uncertainty among people who bought wine and agreed to have it stored on their behalf by Vinance as to where they now stand.
Alan invested in 2009 following a friend's recommendation, putting in some of his pension lump sum. This year he became worried about the firm and transferred three cases out of Vinance's umbrella account into his private account.
Storage issues
This meant he had control of that wine should anything happen to Vinance. But he was still awaiting documentation for two other cases he had bought, when the firm went under.
He said: "Initially the company seemed to have a good track record. In hindsight I would have made sure after each purchase that I had the documentation and would have transferred it immediately into a private account."
Laura invested about £15,000 through Vinance PLC. She initially hoped, after she had been contacted by the administrators, that getting hold of the wine would be straightforward.
She told Money Box: "I've got my own certificate, I know exactly where it is. I could go in the car and go and get it I suppose?"
Allocation uncertainty
However, when Money Box contacted the bonded warehouse where her wine is stored, run by the firm Octavian, it could not immediately match any wine to Laura's name.
That suggests it might be stored in Vinance PLC's umbrella account, and matching the wine to her name may take some time or may not ultimately even be possible.
Ms Fisher said she hoped to have a clearer picture within the next two weeks.
"Not all the wine has been bought. Therefore there is a shortage. If it hasn't been allocated to their account, they are going to be short," she said.
Until the administrator has finished its enquiries, investors who have their wine in the Vinance umbrella account will not be able to remove it or move it into their own private account.
The administrator says it has found a buyer for the customer database who will manage customers' wine investment if they wish the firm to do so. The name of the firm has not yet been disclosed.
Money Box is broadcast on Saturdays at 12:00 GMT on BBC Radio 4 and repeated on Sundays at 21:00 BST.
You can listen again via the BBC iPlayer or by downloading Money Box podcast.