Singapore charges four bus drivers over strike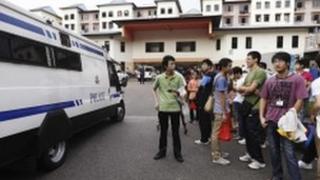 Singapore has charged four bus drivers for inciting strike action at the bus and underground railway company SMRT.
The strike, the first in Singapore since 1986, saw more than 100 drivers not turn up for work earlier this week.
The drivers, all of whom were recruited from China, claimed that they were being paid less in comparison to drivers from other countries.
Singapore prohibits workers in essential services to go on strike without giving 14 days advance notice.
If convicted, the drivers face a maximum fine of 2,000 Singapore dollars ($1,600; £1000) and/or up to a year in jail.
One of the drivers, He Jun Ling, has also been charged for posting comments on a Chinese social networking portal urging workers to join the walkout.
China's commerce ministry was quoted as saying by the Reuters news agency that it was "paying very close attention" to the dispute.
The ministry said it "hopes related parties will properly handle and respond positively to the reasonable demands of Chinese drivers to be paid the same wages for doing the same work and be treated fairly, and protect the legal rights of Chinese workers".