Twinkies: Firms bidding for Hostess brands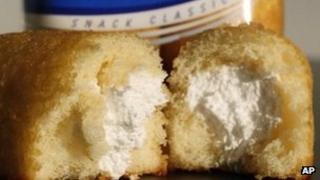 One of the best-known US snack food brands may survive as its bankrupt owner revealed it is in talks with 110 potential buyers.
Hostess Brands, which makes the Twinkie, is due to liquidate itself after a labour dispute.
An advisor to Hostess said that the suitors now include at least five national retailers.
Hostess is also seeking final approval to wind itself down for good, which was tentatively approved last week.
But the bakers union, Hostess' second-largest union, is asking the judge to appoint an independent trustee to oversee the liquidation, saying that the current management "has been woefully unsuccessful in its reorganisation attempt".
The update on the sale of the company's brands came as Hostess sought approval to give its top executives bonuses totalling up to $1.8m as part of its winding down. The company says the incentive pay is needed to retain the 19 corporate officers and "high-level managers" during the liquidation process, which could take about a year.
'Fast and furious'
The sales process has been "so fast and furious" Hostess hasn't been able to make the calls seeking buyers it previously intended, Joshua Scherer of Perella Weinberg Partners, an advisor to Hostess, said in court.
"Not only are these buyers serious, but they are expecting to spend substantial sums," he said.
Hostess expects to keep on about 3,200 staff - out of 18,000 - to help shut down its properties, but only about 200 of them are likely to still be employed at the firm by the end of March.
Hostess said the liquidation would mean the closure of 33 bakeries, 565 distribution centres, approximately 5,500 delivery routes and 570 bakery outlet stores.
Hostess Brands was founded in 1930 and had revenues of $2bn last year.