Fifa must improve 2014 World Cup timings, says ITV boss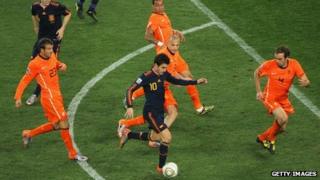 Football's governing body, Fifa, must ensure that matches in the 2014 World Cup start on time, the boss of sport at UK commercial broadcaster ITV has said.
Niall Sloane criticised time overruns at past World Cup tournaments.
He said it made it very difficult for commercial TV companies to accurately organise their advertisement breaks.
FIFA said it was working with all stakeholders, including teams and officials, to ensure a smooth running order in the count down to kick-offs.
'Increased co-ordination'
"We need a rigorous examination of the timetables... we need to know exactly when teams come onto the pitch, when the national anthems will start," said Mr Sloane.
He was speaking at the Soccerex Global Convention in Rio de Janeiro, the annual gathering for the worlds of football business, finance and merchandise.
He contrasted kick-off delays at past World Cups with what he said was the perfect timings in Europe's Champions League tournament for club sides, which is run by Uefa, European football's governing body.
"With the Champions League everything is pre-set, we know exactly when the teams are going to walk out of the tunnel before every game," said Mr Sloane.
Fifa said it always looked to ensure, at all its tournaments, that things such as anthems or the pre-match toss of the coin were timed to the exact second.
"For the 2014 Fifa World Cup, Fifa is already increasing its co-ordination and preparation to enable a consistent count down to the match," it added.
'Accessible' England
With just more than 18 months now until the 2014 World Cup kicks off in Brazil, Adrian Bevington, head of communications at the Football Association, was also speaking at Soccerex.
With the England team travelling to Brazil next summer for a number of friendly games, he said the squad would aim to be open and forthcoming.
The England squad was criticised for their remoteness from the local population during the 2010 World Cup, unlike other countries - such as the Dutch - who had a more open approach to meeting locals and fans.
"We are very determined that when we come to Rio [next year] to be as accessible as possible," said Mr Bevington."We want to reach out to the people of Rio and the international media."
Turning his attention to the wider level of access that national football teams grant the media, Mr Bevington added that on the one hand "it had to work for the manager and the players - it is important that they don't feel exposed.
"But it is also crucially important that it works for the media."