Currys owner Dixons Retail to 'benefit' from Comet woe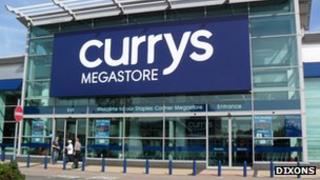 Dixons Retail, the owner of Currys and PC World, said it will "benefit" from the demise of rival Comet.
Dixons said the "fire sale" of Comet's assets and stock could cause "some disruption" initially, but that it would gain in the long run.
However, Dixons posted a half-year loss after taking a big hit on the value of its online gadget subsidiary Pixmania.
Pre-tax losses for the 24 weeks to 13 October were £79.5m, compared with a £2.4m profit a year earlier.
The company said it had made a £45.2m writedown in Pixmania's value.
'Survivor status'
Comet went into administration in early November, and on Tuesday its administrators announced plans to close a further 125 stores from next month if a buyer could not be found, which would leave just 70 Comet stores from the original total 236.
Dixons said that while the sell-off of Comet's stock could cause disruption", it said Currys and PC World would eventually "benefit from the consolidation".
Announcing the results, group chief executive Sebastian James said the company had made "good early progress", despite Pixmania's "poor performance".
Total group sales rose 4% to £3.29bn. In addition, its business in UK and Ireland returned to profitability for the first time in five years.
Group net debt had fallen to £9.9m, down from £143.2m a year earlier.
Keith Bowman, equity analyst at Hargreaves Lansdown Stockbrokers, said: "Dixons continues to underline its survivor status.
"While arch rival Comet remains in a critical condition, a combination of initiatives, including cost savings, store revamps and an ever greater emphasis on its online offering, are driving the group's recovery."
Dixons said it was continuing with its multichannel strategy, enabling customers to research and order goods online via PCs, tablets and smartphones.
While 92% of sales were still completed in-store, 80% "involve the internet in some form", the company said.
Pixmania problems
Dixons bought 77% of Pixmania in 2006 but had to write down the value of the French online retailer in 2011 after poor performance.
French consumers seem to prefer service-led, rather than online-only, retailers, Dixons believes.
In August, the latest writedown convinced the group to buy the 22% stake owned by the Rosenblum family, in the hope that taking full control of Pixmania would help reverse the decline.
Dixons says it plans to cut costs and reduce the company's complexity.
Pixmania's like-for-like sales were down 7% to £198m in the first half, compared with £234m for the same period last year.