Nestle in Chinese medicine deal with Li Ka-Shing's firm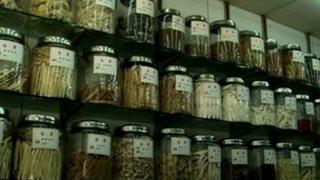 Nestle, the world's biggest food group, has agreed a deal to develop treatments based on traditional Chinese medicines.
It will set up a joint venture with Hutchison China MediTech, controlled by Hong Kong billionaire Li Ka-Shing.
The deal will give Nestle access to more than 50,000 extracts used in the manufacture of Chinese medicines.
The deal comes as the global market for Chinese medicines expands. It is valued at more than $83bn (£52bn) by the World Health Organization.
In China alone, the industry produced almost $48bn worth of such medicines in 2010.
That was up almost 30% from the year before.
"We believe traditional Chinese medicine has a real potential to become part of innovative solutions," Luis Cantarell, chief executive of Nestle Health Science, was quoted as saying on a conference call by the Financial Times and the Bloomberg News agency.
The joint venture, called Nutrition Science Partners Limited (NSP), will develop and manufacture nutritional and medicinal products.
It will initially focus on developing gastro-intestinal products, but may "may in the future expand into the metabolic disease and brain health areas", Nestle said in a statement.