Rio Tinto targets $5bn cost cuts as prices tumble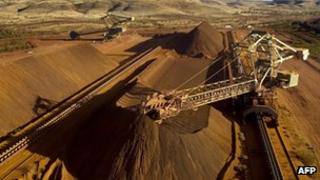 The world's second-biggest mining group, Rio Tinto, has announced plans to slash its costs by $5bn (£3.2bn) over the next two years.
The cuts come as slowing global demand and a fall in commodity prices have hurt profits at mining firms.
There have been concerns that demand for commodities may dip further in wake of economic problems in the US and Europe and slowing growth in China.
Other miners, including BHP Billiton, have also announced cost-cutting plans.
"We are taking further tough action to roll back the unsustainable cost increases of the past few years and are maintaining a relentless focus on improving productivity," said Tom Albanese, chief executive of Rio Tinto.
China factor
Mining firms such as Rio Tinto have benefited from China's rapid expansion over the past few years, which have seen the country grow into one of the world's largest commodities markets.
Demand from China has become even more important for miners as growth in the US and Europe, two of the biggest economic regions in the world, has slowed down.
However, growth in China has also been slowing and hit a three-year low in the July to September quarter.
That has led to concerns that demand for commodities from China may tail off and further impact prices and hurt company profits.
However, Rio Tinto said it expects growth in China to rebound in the coming months.
"I'm cautiously optimistic about the fact that we're beginning to see green shoots in China," Mr Albanese said.