Brazil looks to score overseas football shirt boost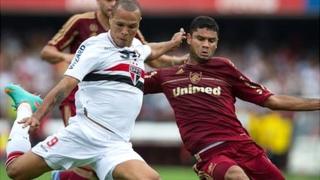 A host of colourful Brazilian club football shirts could be coming to sports shops across Europe and the US.
That's the aim of Brazilian sports official Pedro Trengrouse.
A lawyer who works for the country's National Sports Council, he says he wants to end the "very dangerous one-way globalisation" that sees European clubs such as Manchester United and AC Milan have their shirts on sale in Brazil, but not vice versa.
While the famous yellow and green Brazilian national strip has long been available to buy in Europe and the US, Mr Trengrouse aims for the country's biggest club teams to follow suit.
He wants to see the red and black shirts of Rio's Flamengo and the white tops of Sao Paulo's Corinthians, to name but two sides, flying off shopping rails from London to Rome.
Speaking in Rio de Janeiro at the Soccerex global football finance and business convention, Mr Trengrouse said he hoped that the 2014 World Cup - which Brazil is hosting - would drive such overseas commercial expansion.
'New model'
"Foreign clubs have long been developing their brands abroad, but I haven't been able to find one shirt of a Brazilian club team overseas," he says.
"We need to access the global market… the World Cup and the 12 new stadiums will represent a change… of bringing more commercialisation to Brazilian football."
In a number of talks at Soccerex looking at how well Brazilian football clubs are run from a commercial point of view, the general consensus was a mixture of disappointment at the current weak position, and high levels of optimism at the opportunity presented by the World Cup.
In addition to the export situation explored by Mr Trengrouse, others said they hoped the World Cup would act as a catalyst to boost the level of professionalism in the way the country's club sides are run as commercial operations, especially in terms of maximising sponsorship revenues.
Mauricio Assumpcao, president of Rio de Janeiro-based club Botafogo, said his team had already started work to improve matters.
"In 2009 we realised that we had to have a different model," he said.
"So we said that players could only give interviews when they were wearing their official shirt."
While such a situation - protecting sponsors and clothing suppliers - has long been in place in European sport, and especially in the US, it appears to be relatively new in Brazil.
Sponsorship 'activation'
To help Brazilian football clubs run themselves in a more professional way, their sponsors are now having a much great involvement, to an extent that would perplex or even appal leading teams in Europe.
Ricardo Tadeu De Soares, vice president of sales at Brazil's brewing giant AmBev, part of Brazilian-Belgian group Anheuser-Busch InBev, the world's largest brewer, said his company worked closely with the biggest four football teams in Rio on work to improve their wider facilities.
Showing AmBev was helping the clubs generate a deeper benefit from the sponsorship arrangement allowed his company to better connect with the clubs' supporters, who would then be more likely to become "brand consumers", he added.
So not entirely an altruistic act by the brewer.
Both Walter De Mattos, editor of Brazilian sports newspaper Lance, and Richardo Fort, a marketing boss at global credit card giant Visa, described such efforts by sponsors in Brazil to help football clubs as "activation", as in activating their brand, rather than simply being a passive sponsor, which they said would not be successful.
Mr De Mattos said such sports sponsorship would only continue to grow in Brazil, because sponsoring teams allowed sponsors to benefit from being associated with something seen as both positive and emotional.
Plus, he said, increased sponsorship of football would only help the sport develop as a business, and "help Brazil get the GDP [gross domestic product] we deserve".