Detached house prices stagnate, says Land Registry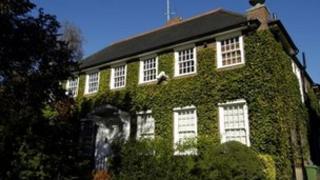 Detached homes have seen the smallest rise in prices of all property types in England and Wales in the last year, figures suggest.
The typical home rose in value by 1.1% in the year to the end of October, according to the Land Registry.
But the typical detached house only increased by 0.1%, the latest data suggests.
The typical detached home was valued at £254,378 compared with an average of £161,605 overall.
In the 12 months to the end of October, terraced homes increased in value by 0.6%, prices of semi-detached homes went up by 1.5%, and flats and maisonettes rose by 2.8%. Commentators say this is partially driven by demand.
"Detached houses have always attracted a premium, and in the current climate that can be seen as one luxury too far," said Russell Quirk, director of estate agent eMoov.co.uk.
"For many buyers it ends up on their 'nice to have' rather than 'need to have' list."
'Stability'
The Land Registry figures, which suggested prices fell by 0.3% in October compared with September, again showed the regional differences of house price changes.
In London, there was a 7% annual increase in prices, compared with a fall of 5.8% in north-east England.
In a separate report, the Council of Mortgage Lenders (CML) said that London was affected by factors that were unique to the property market in the capital.
"Part of the resilience of London property prices is explained by the city's global status," the CML said.
"The political stability of the UK, combined with a 20% depreciation in the value of sterling since the credit crunch, has made the capital an attractive destination for international investors in central London property.
"Another important characteristic of the capital's housing market is the significant variation in property prices within London. This presents flexibility for those wishing to buy but who find themselves priced out of expensive areas.
"There are often options to buy in other districts, which contributes to the process of gentrification of areas of the capital."
The lenders' group said first-time buyers in London were generally a couple of years older than their counterparts in the rest of the UK, they had a higher income, but the vast majority needed financial help from family members to get on the property ladder.
About 28% of first-time buyers were unassisted, compared with 34% in the rest of the UK, the CML said.