Philippines economic growth better than forecast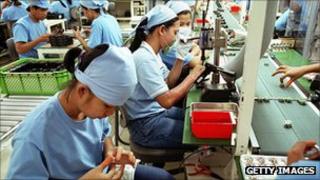 The Philippines economy grew more than forecast in the third quarter, boosted by increased consumer and government spending and a recovery in exports.
Growth was 7.1% in the July to September quarter, from a year earlier. Analysts had forecast a 5.4% expansion.
Compared with the previous three months, the economy grew 1.3%.
The robust numbers, which come amid a volatile global economy, are likely to ease the pressure on the central bank to cut interest rates further.
"The upside surprise would mean that an interest cut would probably be unnecessary," said Enrico Tanuwidjaja, an economist at Royal Bank of Scotland.
"We have probably already seen the bottom of the rate-cut cycle."
The central bank, Bangko Sentral ng Pilipinas (BSP), has cut interest rates four times this year, in an attempt to sustain growth.
The latest cut, announced last month, saw the bank lower its benchmark rate to a record-low of 3.5% from 3.75%.
Regional star?
The Philippines economy has been one of the better performing ones in the region this year.
Its growth has been helped by a strong domestic demand, government spending and increased investment in the country.
At the same time, its exports, which had been under pressure in wake of slowing demand from key markets, recovered sharply in September rising by more than 22% from a year earlier.
Earlier this year, its credit rating was raised to one level below investment grade by ratings agency Standard & Poor's.
Two of the three major international rating agencies now have the Philippines one rung below investment grade which is likely to help it attract more investment, a key to further growth.
Analysts said that given these factors and the robust numbers for the third quarter, the Philippines was likely to beat its target of 6% growth for the current year.
"The Philippines is the diamond of the region this year," said Mr Tanuwidjaja of the Royal Bank of Scotland. "I think the Philippines will beat growth forecasts for this year."
The economy got a further boost as the Philippine National Statistical Coordination Board revised the numbers for the second quarter.
It said economic growth was 1.2% on a quarter-on-quarter basis in the April to June period, up from its earlier figure of 0.2% growth.
The board said the economy grew by 6.5% in the first nine months of the year.