US says China not a currency manipulator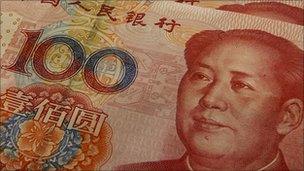 The US has decided not to declare China as having manipulated its currency to gain an unfair trade advantage.
In its semi-annual report, it said Beijing did not meet the criteria to be called a currency manipulator, which could have sparked US trade sanctions.
Critics of China say it keeps the yuan low to keep its exports cheap.
"The Chinese authorities have substantially reduced the level of official intervention in exchange markets since the third quarter of 2011, and China has taken a series of steps to liberalise controls on capital movements, as part of a broader plan to move to a more flexible exchange rate regime," the Treasury said.
But it noted there was more to do and that "further appreciation" against the US dollar and other major currencies was "warranted".
The issue of whether China manipulates its currency is an important political issue and an ongoing source of tension between the world's two biggest economies.
Defeated US presidential candidate Mitt Romney had said he would have branded China a currency manipulator on his first day in office.
Twice a year, the Treasury gives a report to Congress on China's yuan policy. Previous reports have also found China keeps the yuan undervalued, but have fallen short of calling China a currency manipulator.
China has, since 2005, had a managed currency, whereby the yuan is pegged against a basket of foreign currencies. It has been slowing appreciating against the US dollar.
In its report, the Treasury said that the yuan had appreciated by 9.3% against the dollar since June 2010, while China's trade and current account surpluses have both fallen from their peaks.
Related Internet Links
The BBC is not responsible for the content of external sites.