Financial Times Group head to step down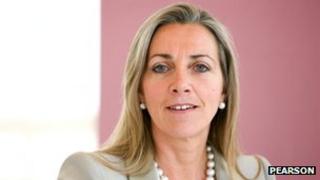 The head of the Financial Times Group, publisher of the eponymous pink-paged City journal, is to step down in April.
Rona Fairhead is leaving the FT's owner Pearson after a 12-year career within the publishing and education group.
Last month, Pearson's chief executive, Marjorie Scardino, announced her own departure from the end of the year.
The education unit head, John Fallon, was appointed chief executive, sparking speculation Pearson may be planning to sell off the FT altogether.
Earlier this month Pearson denied rumours that it would sell its business newspaper to the financial data firm Thomson Reuters.
Ms Fairhead, who previously worked as Pearson's head of finance, has run the Financial Times Group since 2006, during which time her responsibilities have shrunk as various businesses owned by her division have been sold off.
Rather than invest in its newspaper, Pearson has instead sought to expand its international English language teaching business Wall Street English, as well as its book publishing business.
Last month, the company announced that it had agreed a deal with German media group Bertelsmann to combine their Penguin and Random House publishing houses.
Ms Scardino said of her departing colleague: "She has led a fundamental restructuring and refocusing of the FT Group, including its successful development of digital businesses, and leaves a strong organisation with a bright future in a highly challenging industry."
No detail was given as to which company Ms Fairhead would be working at after she leaves Pearson in April.