Portugal passes another austerity budget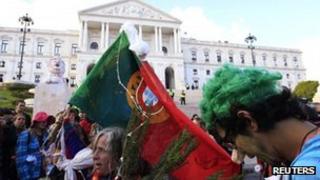 The parliament of recession-struck Portugal has passed a budget promising another year of austerity measures.
The coalition government ensured enough discipline to muster a majority despite every opposition party voting against.
The budget, which includes the biggest tax rises in the country's recent history, was opposed by thousands of protesters surrounding the parliament.
The government wants to cut its deficit from 5% of economic output this year to 4.5% next - as required by its bailout.
Portugal's economy is projected to shrink 3% this year, after contracting 1.7% in 2011, but the government hopes the recession will moderate to a 1% decline next year.
However, some economists consider this growth forecast optimistic, and the Organisation for Economic Co-operation and Development on Tuesday predicted a 1.8% contraction.
A significantly sharper recession could see the government making no inroads in its deficit, despite the austerity measures contained in its latest budget.
The government also expects unemployment to rise from 15.7% to 16.4% of the workforce over the coming year.
'Enormous' tax cuts
Because of the recession, tax revenues in the current financial year have already fallen short of government targets, necessitating the higher tax rates in the new budget.
Antonio Jose Seguro, leader of the opposition Socialist party, dubbed the tax rises a "fiscal nuclear bomb for Portugal".
The measures in the budget include:
a rise in the standard income tax rate from 24.5% to 28.5%
a rise in the top rate from 46.5% to 48%, plus a special 2.5% "social solidarity" tax
a lowering of the threshold for the top rate from 153,300 euros (£123,700; $198,200) to 80,000 euros (£65,000; $104,000)
an additional 3.5% surcharge on all incomes in 2013
The tax rises are equivalent to more than a month's wages for most Portuguese workers, and aim to increase government revenues by 30%.
Finance Minister Vitor Gaspar conceded that the tax rises were "enormous", but also called them "another determined step toward recovery".
Meanwhile, spending is also being cut by 2.7bn euros.
Last year the Socialists agreed to abstain on what was also a contentious austerity budget vote.
It was a previous Socialist government that originally turned to the eurozone and International Monetary Fund in 2011 for a bailout, under the terms of which Portugal must get its overspending back under control.
Portugal has already received 61bn euros of its total 78bn-euro bailout.