Nationwide profits fall on bad loans and PPI compensation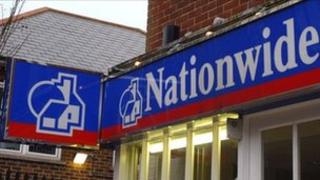 Nationwide building society has reported a fall in half-year profits, partly due to bad commercial loans and money set aside for PPI compensation.
Profit before tax for the six months to the end of September was £124m, down from £238m a year earlier.
Nationwide set aside a further £45m to cover claims for payment protection insurance (PPI) mis-selling.
However, income rose to £1.2bn after strong mortgage lending and growth in the number of current accounts.
"We have continued to demonstrate our success," said Nationwide chief executive Graham Beale.
"The first half of the year was our highest six month mortgage lending period for four years, we helped almost twice as many first time buyers finance their new homes, [and] we welcomed twice as many current account customers moving their accounts to us from the banks."
He added that gross mortgage lending had risen by 15% to £10.2bn compared with a year earlier, with £2.5bn lent to first-time buyers.
The big drop in pre-tax profits was largely down to the accounting value of derivatives used to insure the business against movements in exchange rates and interest rates. In the first six months of the last financial year, the company made a profit on these activities of £71m. This year, it made a loss of £14m.
Losses on commercial property loans also increased, to £193m. Nationwide said it did not anticipate "any significant improvement" in the prospects for the sector until the end of the 2013-14 financial year at the earliest.
Eyeing expansion
Mr Beale also told the Reuters news agency that the building society was interested in buying the 316 branches being sold by Royal Bank of Scotland.
The sale of the branches is a condition being forced on RBS by the European Commission after the bank received a multi-billion pound state bailout in the 2008 financial crisis. A planned deal to sell the branches to Santander collapsed last month.
Nationwide plans to start lending to small and medium-sized firms in 2014, and sees the purchase of the RBS branches as a way of speeding up progress in this area.
"Strategically we want to enter into the SME (small and medium-sized enterprise) space. If there's anything I could do that would accelerate our strategy it would be of interest," Mr Beale told Reuters.
"Within that context, RBS is something which we will watch very carefully."
However, he added that there were "clearly some enormous complexities" over such a purchase, given the fact that the Santander deal was scrapped.
"We need to understand just what those issues are before we can be committal on the point," he said.