Better a reluctant Bank governor than a British one?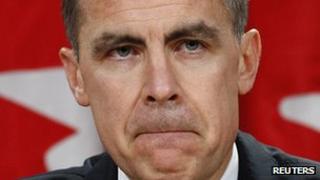 Should we care that the man who is about to take over one of the most important jobs in British life didn't really want to do it?
Mark Carney's reluctance to be governor of the Bank of England will be disconcerting to some. But you never know, it could turn out to be a plus.
It's easy to see why the news of Mr Carney's appointment has gone down so well. In the refined world of global economic policy-making - he is an acknowledged rockstar.
That George Osborne fought so hard, and so successfully, to get the Canadian central bank governor to come here is a feather in the chancellor's cap - and, of course, a kick in the teeth for Paul Tucker.
But, what does it say about the attractiveness of the job, to this global high-flyer, that it took the chancellor the best part of nine months to persuade him?
It may - as many have noted - say something about the openness of the UK that the chancellor was willing to look abroad for a central bank governor. But, as I noted on the 10 o'clock news, it also says something about our position that Mr Osborne had to try so hard.
I can't imagine the US Treasury Secretary labouring so long to persuade an American to take such an important job - let alone a foreigner. Americans think you have to really want the top jobs to have a chance of being any good at them. Mr Osborne clearly thought differently.
'Goody-two-shoes'
Is Mr Carney worth all the trouble? Having met him a few times and chaired a session with him earlier this year at the Davos World Economic Forum, I can say he has a crisp and engaging manner and, like most policy-makers at his level, buckets of self-confidence. Unlike many, he is also willing to display a sense of humour.
If there is any country whose policy makers might be expected to teach us a thing or two, it's Canada. In the 21st century, it has a better economic track record than the UK in almost any respect you care to mention.
I went into the depressing detail in a blog several years ago, when I called it the "goody-two-shoes" economy.
Canada did have a debt crisis in the 1990s but it learned its lesson. It didn't have a housing market boom, or bust, in the first decade of the century. Or a massive increase in personal or government debt. There have been no big bank failures - or bailouts.
And there's been no double-dip recession. Canada's one and only "dip" was one of the shortest, and shallowest, in the G7.
Mark Carney can't take all the credit for that. When it comes to the regulation of Canada's banks, he can't really take any credit at all. But he he does get credit for being the first leading central bank governor to cut interest rates sharply, when the domestic and global economy started to turn south. And for pre-committing the Bank of Canada to holding interest rates very low for a minimum period of time.
That pre-commitment policy was later copied by Ben Bernanke at the US Federal Reserve (though I suspect governor Bernanke would not put it that way). It has not been copied by Sir Mervyn King because he flat out disagrees with it. He doesn't think it makes sense to tie the Bank's hands in the face of unexpected shocks.
Mr Carney might want to change that if the UK recovery falters again. But the truth is we don't really know how far he's prepared to think outside the box in monetary policy, because Canada hasn't ever needed that kind of help. It has had a decent recovery.
Well qualified
Whatever happens, I suspect that Mr Carney will want to shake up the culture of the Bank, and encourage more open debate. You never know, under governor Carney, the 'Court of the Bank of England' might become just an old-fashioned name for part of the Bank's hierarchy - not an accurate description of life inside.
Many are also hoping the new chief will take a cool look at the many responsibilities that the governor has now been given, which critics say cannot reasonably be handled by one man.
Fans of Mr Carney say if anyone can do all these jobs, it's him. There isn't a British candidate for the job who could boast a doctorate in economics, hands-on experience in investment banking, and years in charge of not just Canadian monetary policy but global financial sector reform. That is why the Bank was his for the taking.
Can we really expect such a man to delegate, any more than his predecessor did? Even Mr Carney's biggest fans might have their doubts.
Then again, maybe Mr Osborne was on to something, choosing a reluctant foreigner to do this fiendishly important job. Who better to practise the fine art of delegation, than a man who never really wanted the job at all?