China shipbuilder Rongsheng slumps 9% as boss resigns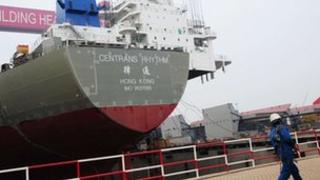 Shares of shipbuilder China Rongsheng Heavy have fallen more than 9% after its chairman resigned, the latest in a series of setbacks for the firm.
Chairman Zhang Zhi Rong is leaving to devote time to personal interests, the company said in a filing to the Hong Kong stock exchange.
Rongsheng has seen profits decline as the shipping industry suffers.
Earlier this year a separate company controlled by Mr Zhang was implicated in an insider trading scandal.
In July, the US Securities and Exchange Commission (SEC) filed a complaint against traders at Well Advantage Limited saying they had made illegal profits.
It said they had prior information of a deal between China's state-owned oil firm CNOOC and Canada's Nexen worth $15.1bn (£9.4bn).
Earlier this month Rongsheng said a settlement had been reached in the case and that Well Advantage would pay $14m.
The company pointed out, however, that Mr Zhang was not named in the SEC filing and that Well Advantage had not admitted the allegations.