India's ONGC to pay $5bn for Conoco's Kashagan stake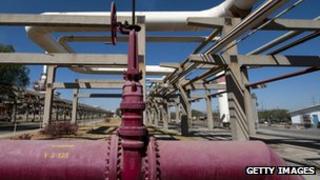 India's biggest oil explorer, Oil and Natural Gas Corporation (ONGC), said it will buy ConocoPhillips's 8.4% stake in Kazakhstan's Kashagan project.
It will be the state-controlled producer's biggest overseas acquisition, worth $5bn (£3.1bn) if given various approvals.
However, analysts said major delays and mounting costs at the field in central Asia could prove a challenge.
ONGC is aiming to increase production to fuel India's growing economy.
Crucial supply
India imports nearly 80% of the oil it needs because its refining capacity has now outgrown the oil output locally.
Kashagan, under the Caspian Sea, is the biggest oil field discovered since 1968 and holds about 30 billion barrels of oil, of which analysts estimate 8-12 billion can be extracted.
ONGC Videsh, the overseas arm of ONGC, said the deal would likely add about 1 million tonnes (20,000 barrels per day) to its annual production for 25 years.
The company added that the acquisition "bears a significant strategic importance to India in terms of contributing towards India's energy security".
The field is expected to start production in 2013. However, its development has been postponed by eight years and analysts project costs have doubled to $46bn.
Positive move
Texas-based ConocoPhillips has been cutting its non-core assets in an attempt to reduce debts. It said the book value of its Kashagan stake was about $5.5bn as of 30 September.
Analysts said the deal was good for ConocoPhillips as the paid price was higher then expected.
"This is a positive for ConocoPhillips as it marks important progress on their asset divestiture programme, which is needed to support the capital program and dividend," said analysts at Simmons & Co in a note to clients.
"(The) purchase price of $5bn is at the high end of our prior expectation of $4-$5bn," they added.
The deal still needs government approval, and is dependent on other participants in the Kashagan field who have the first right to increase their stake.
The field is jointly controlled by state-run KazMunaiGas and six other international oil companies including ExxonMobil, Royal Dutch Shell and Total.